Charitable Giving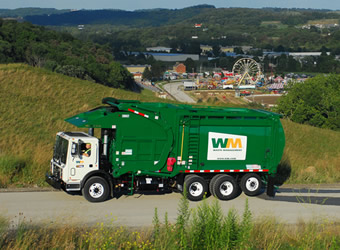 Healthy thriving communities depend on involved citizens, organizations and corporate partners for momentum. We lend our support and services to causes that promote civic pride, economic development and revitalization. Every community has its own challenges, and we strive always to be part of problem-solving initiatives.
Giving Guidelines
These guidelines outline the programs that Waste Management is most motivated to support:
Environment - The environment affects all aspects of our lives, from the air we breathe, to the way we power our homes, to the parklands in which we play. Waste Management is committed to helping provide renewable resources to reduce our dependence on fossil fuels, and to conserving and maintaining wetlands, wildlife habitats and green spaces for people's enjoyment. Understanding the importance of the environment, Waste Management supports organizations and programs that preserve and/or enhance natural resources.
Environmental Education - The key to ensuring the preservation of the environment is learning about the importance of protecting it and acting in an environmentally responsible manner. To this end, Waste Management prefers to support environmental education programs targeted at middle and high school students. This includes environmental and science related projects, science fairs, Earth Day projects and others.
Causes important to the areas where we operate - Waste Management is committed to enhancing our communities through programs that help make them cleaner and better places to live. Local Waste Management facilities are proactive in identifying charities located in the immediate community that they serve and in many cases may have predetermined which organizations they will be supporting that year.
WM Preferences
The Waste Management Charitable Contributions program provides support to organizations that are duly certified by the state in which they operate and are in receipt of an IRS ruling that they are classified as a a 501(c)(3) organization or public organizations where any donations requested will be used exclusively for public purposes. We target our support to specific projects or programs that enhance the scope of services offered by an organization. WM prefers not to financially support operating costs, capital campaigns, or multi-year requests. Preference is also given to organizations, which have a broad base of funders and employee volunteerism.
Eligibility and Restrictions
The Waste Management Charitable Contributions program does not fund:
Individuals;
Travel by groups or individuals;
Individual requests for walks, runs and cycling fundraisers;
Religious organizations which limit their services to members of one religious group or those whose purpose or emphasis is to propagate a particular religious faith or creed such as churches, missionary groups, sectarian welfare or relief efforts. Exceptions may be granted where programs benefit the community at large (e.g., contributions to support a church's soup kitchen, etc.);
Political candidates or lobbying organizations;
Endowments or Foundations;
Organizations with a limited constituency, such as fraternities, or labor groups;
Organizations that have discriminatory policies regarding ethnic background, gender, religious affiliation, etc.,; and
Anti-business groups
WM Charitable Contributions Application Procedures
Nonprofit organizations interested in requesting financial, in-kind or product donations should submit requests to:
Pierpont Communications
Attn: Waste Management
1800 West Loop South, Suite 800
Houston, TX 77027
(713) 627-2223
wm@piercom.com
Applications are accepted year round and are reviewed on a continuous basis. Expect about a two-month review time.
Once a request is received, it is sent to the appropriate local market area who will evaluate and decide if the request can be funded. Pierpont Communications or the local WM market area will contact the requester with the funding decision.
Please note that WM operates on a calendar year budget and our markets strive to be proactive in identifying charities to support the third quarter of each year. Requests funded in any one year are not assured of future funding. If renewed funding is desired, the organization should submit an additional application.
Please include the following information for each request:
Full contact including: name, address and telephone number of the organization
Contact of representative, title and email address
Brief background information on the organization including history, mission, activities, and programs
Copy of the IRS exemption letter verifying 501(c)(3) tax-exempt status
Latest audited financial report or a financial statement
Current operating budget and sources of income and applicable grants
Board list and/or list of names and professional affiliations of directors and trustees (where available)
Proposals should include the following information regarding the particular program for which funding is being sought:
Purpose and objectives of the program
Needs being addressed
Plan of action and time frame
Qualifications of program's staff
Total funding required and projected sources
The amount requested
How the project's success will be determined/measured and how results will be communicated
Specific ways Waste Management will be recognized