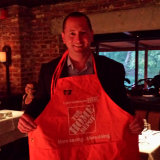 Customer Story #26: The Home Depot gives coveted apron to WM employee
Knowing the customer results in improved business for WM

HOUSTON Since May 2012, The Home Depot has been one of Waste Management's biggest national accounts. With 2,000 U.S. stores being serviced day in and day out, the home improvement retailer provides significant value to WM.

Managing an account of this size is no small feat. With thousands of solid waste compactors outside their stores, The Home Depot (THD) depends on timely and reliable collection, whether serviced by WM districts or third-party haulers contracted by WM.

As well, the retailer requires rigorous monthly, quarterly and annual reports and detailed in-person reviews. "A couple of years ago when we first got the contract, we didn't have a partnership with The Home Depot, but now we do," said former Sr. Director of Strategic Accounts P.J. Foote. Since 2012, he and his team, including Director Andrew Bartlett and Manager Lauren Danforth, have worked to cultivate the WM/THD relationship.

So when Foote attended his last year-end meeting and celebratory dinner with THD in Atlanta with WM Senior Vice President Dave Aardsma on June 11, he was in for a surprise. THD executives presented him with the distinctive orange apron reserved only for Home Depot employees.

"Hats off to our operations people in the field, and our support teams behind the scenes. Every time we deliver on our service consistently and reliably, that gives us runway to improve our value to THD and negotiate more favorable terms and pricing for our services," Foote said. "Because we are over-delivering and meeting our objectives, our relationship has blossomed, and through that relationship we have found avenues to improve our profitability."

Aardsma added, "If you provide good service, know your customer and build the relationship, you get the benefits that add to our bottom line. P.J. and his team are an excellent example of that." Foote recently transitioned to senior director of public sector solutions reporting to Ann Reeves, vice president.

PHOTO: Former WM Strategic Accounts Sr. Director P.J. Foote was surprised recently with an orange apron from The Home Depot for WM's work with the retailer.