The holiday issue
Letter from the editor
Brrr, it's getting cold out there. If you live up north, hopefully you made it to work this morning without freezing to
the sidewalk. If you live in a more pleasant part of North America, like Florida, well…good for you (although I would
prefer you stop posting on Facebook about how nice it is outside). No matter the temperature, I'm happy to have your
eyes on this latest edition of WM Monday.
That's because this is a special issue — a good news issue. Every month we get a ton of submissions that are truly
great. However, despite our best efforts, sometimes we just can't fit them all into our editorial calendar. Don't fret,
though, because here they are today. Please enjoy and WM Monday will be back on December 30.
Happy holidays,
Robert Kidwell, editor

Christmas parade
Okeechobee, Fla. – According to Community Relations Specialist Teresa Chandler, she can always
count on Driver JC Causey to do a great job decorating his WM truck whenever there's a community
event. For this year's holiday parade, he decked the vehicle out with ribbon, wreaths and even snowflake
lights. This truly was a different kind of float.

British Columbia office supports families in need
Vancouver, B.C. This holiday season, the Vancouver sales team for Waste Management raised a collection of gifts
for Atira, an organization that supports those who have suffered from domestic violence and abuse. With 15 housing
sites located across Canada, Atira currently provides assistance to more than 1,300 women and children. Included
in the donation from WM were clothes, stuffed animals and toys. Thanks to these employees for making the holidays
a little brighter for those in need of help.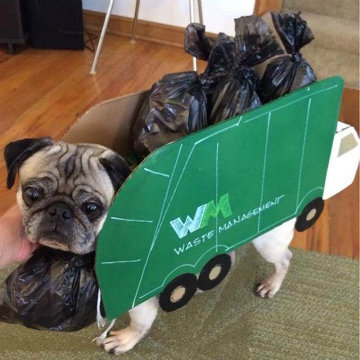 Awww
This photo appeared on Facebook after Halloween (submitted by Candy Castellanos,
public education and outreach manager).

N.C. customer pleased with e-waste recycling
Clayton, N.C. – On Nov. 2, Waste Management hosted an e-waste recycling event as part of its municipal contract
with the city of Clayton. District Manager James Woodard, Route Manager Mike Linkous and Account Manager
Chip Dodd worked the event, during which several volunteers made up of employees, city councilmen and environmental
students accepted all kinds of electronics. In total, 195 cars drove by, contributing more than 18,600 pounds of materials.

WM, Patriots host recycling event
Foxborough, Mass. – WM's Total Recycle Program (TRP) customer, Patriot Place, home of the New England Patriots,
hosted an America Recycles Day (ARD) event at their outdoor winter skate rink. Michelle Lee Guiney, program manager
for WM TRP, coordinated the event with Patriot Place's Operations Manager Chris Wheeler, and Assistant Marketing
Manager, Diana Griffin.
During the event, guests who brought in recyclable bottles and cans received complimentary admission to the skating rink.
Typically a quiet weeknight, the event brought out a lot of people, many of whom expressed gratitude for the complimentary
admission. In the end, everyone left with a better understanding of single-stream recycling.
Recycling Director Mike Tunney enters Hall of Fame
Chicago, Ill. – This fall, Mike Tunney, director of recycling operations for Illinois - Missouri Valley, received the Sustainability
Hall of Fame Award from Keep Chicago Beautiful. Mike was honored for his work in the recycling industry. With oversight over
six states and 250 employees, Tunney has more than 35 years of experience in the environmental industry and extensive
experience in the design, construction and operation of recycling facilities. He has worked on several large scale projects for
the private sector and municipalities, including the city of Chicago.

WM opens doors on recycling
San Leandro, Calif. – On November 16, hundreds of customers, including Boy Scouts and Girl Scouts, attended Waste
Management's first annual America Recycles Day event at the Davis Street Resource Recovery Complex in San Leandro, Calif.
Guests toured the 52-acre site to catch a glimpse of the nearly 3,500 tons of materials that are processed at Davis Street each day.
In addition, they tested their recycling knowledge for prizes in StopWaste's Ready Set Recycle contest, which you can play at home
by registering at www.readysetrecyclecontest.org. Kids and parents alike also delighted in having their pictures taken in a natural
gas garbage truck, which is powered using fuel made from garbage.