Case Studies
In a relatively short time, sustainability has grown from a small, sporadic initiative to a full-fledged movement that affects campuses across the country.
As North America's leading provider of comprehensive waste management services, Waste Management can partner with your college to help you reduce your environmental footprint and place greater emphasis on resource efficiency, recycling, gaining LEED® certification, and much more. Here are just a few of the institutions of higher education we've been working with.
Arizona State Is Attracted to the Sun - In a state known for sunshine, it's no surprise that ASU is embracing clean, renewable solar-powered energy. Learn More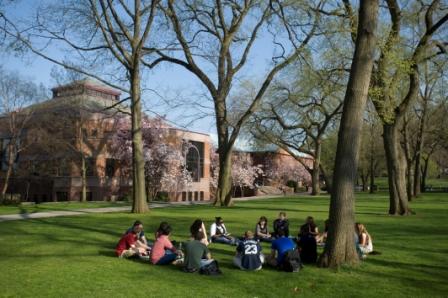 Rutgers University is recycling more, and thinking greener than ever - Rutgers has implemented single-stream recycling and has achieved a 67% recycling diversion rate, toward a goal of 85% by 2015. Learn More
Landfill Gas Powers Education at University of New Hampshire - The university's "EcoLine" project is an innovative way to lower expenses while pursuing the long-term sustainability goals of the campus. Learn More
AASHE 2011 Presentation Panel - During the 2011 AASHE Conference, Waste Management teamed with two of our valuable clients to present a panel on recycling and diversion on college campuses. Learn More
2012 Executive Sustainability Forum - During the Waste Management Phoenix Open in February, key business executives and thought leaders convened at the Arizona State University campus to present ideas, innovations and best practices for achieving sustainability. Learn More
Learn more strategies for greening your campus. Download our brochure, "In Pursuit of Zero Waste."