C&D Specialists
Our environmental expertise and personalized approach, backed by a vast infrastructure, give you the tools you need to optimize the reuse of debris, earn valuable points toward LEED® certification and reduce your overall environmental impact.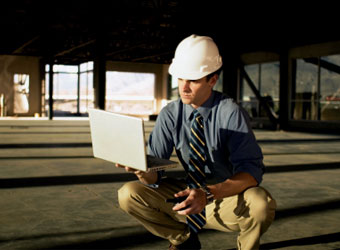 Your dedicated construction specialist will anticipate your project's needs before, during and even after construction — offering you the right solutions at the right time.
Your Construction Specialist:
Is your single point of contact
Will anticipate your needs during every phase of construction
Provides up-to-date knowledge of local disposal regulations and requirements
Helps you keep your project on time and on budget
Has expertise on the Materials and Resources section of LEED® New Construction

Can help you meet your diversion goals and gain valuable points toward LEED certification
Expertise From Start to Finish
From container provisions and proper debris disposal to the creation of customized green-building solutions, we can help you implement your environmental initiatives and achieve positive economic results.
1. Pre-Construction: Land Clearing, Demolition & Design
We help build in efficiencies and eliminate waste by working with architects, owners, contractors, estimators and schedulers prior to construction activity.
Remediation and Brown Field Services
Demolition Planning (waste stream management, logistics)
Integrated Project Design Approach to waste flow and efficiency planning (construction and occupation)
Equipment Specs and Vertical & Horizontal Flow of Materials (human and vehicular traffic patterns)
Sustainable and Recyclable Material Specs & Procurement
Supply Chain Management
Tax Incentives Planning
LEED Certification Guidance
2. Construction, Remodeling & Renovation
Our integrated approach to construction services can keep your project on time and on budget.
Residual Management integrated with project scheduling
Training the Trades on sustainable waste management practices
Logistical Planning
Security Solutions
Diversion Calculation and Reporting
3. Building Occupation & Utilization
Upon completion of construction, we can help you continue to satisfy your customer's needs for their new building.
Permanent Waste and Recycling Services for multiple streams
Turnkey Sustainability Programs
Universal Waste Recycling
Ongoing Operations and Maintenance, Tenant Improvement, and Renovation Programs