Medical Waste Management & Disposal for Healthcare Facilities
Is your healthcare facility paying a premium to treat solid waste as regulated medical waste?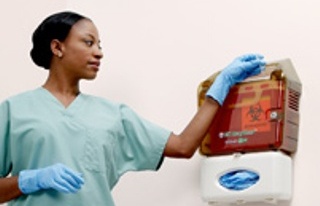 Through our medical waste minimization programs, Waste Management can help you maximize cost efficiencies without increasing risk.
Complexity made simple
Is your hospital treating non-infectious waste such as packaging and disposable patient gowns the same way it treats regulated "red bag" waste? In the everyday hustle and bustle of patient care, even the best-trained staff may miscategorize waste. A good medical waste minimization program can help reduce your total waste costs. We can help you develop and execute such a program and tailor it to your facility's exact needs.
Most healthcare facilities contract with numerous suppliers, each handling unique and complex categories of waste. The facilities themselves may not see the inefficiencies arising from misclassified materials, and the suppliers have no incentive to reduce their share of the business. Thus, the status quo is maintained.

Waste Management's integrated approach, focused on creating sustainable, efficient waste management for healthcare, enables us to rectify such inefficiencies.
Best practices
The healthcare solutions experts at Waste Management are well-versed in the ever-changing regulations that affect your institution. Together, we can assess your current operations and help you implement best practices for achieving your economic and environmental goals, while safeguarding your employees, the community at large and your reputation.

Through our waste segregation programs, our regulatory and process specialists work closely with your staff to:
Develop processes that safely and efficiently direct your institution's waste to the most appropriate containers
Reduce your regulated medical waste volumes
Reduce related treatment costs
Prevent waste-related regulatory issues
Uphold worker and community safety

Be responsible stewards of the environment
Treatment options that work best for you.
On-site treatment is a practical, cost-efficient and effective option for treating waste. We can help you acquire and operate on-site equipment that's right for your situation.

If on-site processing is not cost-effective or operationally feasible, our MedWaste™ Pickup service may be a better option for your facility. This service makes it possible for your healthcare facility to conveniently schedule first-rate medical waste pickup and disposal.
Once collected, the biohazardous medical waste is treated at one of our state-of-the-art facilities that employ autoclave or incendiary technologies for full compliance. We continue to expand our network of medical waste treatment facilities across the country, providing you with convenient, cost-effective medical waste solutions when and where you need them most.
Put waste in its proper place
The key to reducing the volume of medical waste, without increasing risk, is to have energized staff members who are educated and motivated to classify waste accurately. This takes training. We can work with you to develop the educational strategies necessary for your staff to discriminate between various categories of waste so they can reduce the volume that flows into higher-cost regulated medical waste. In this way, you'll be able to recover a greater portion of your waste costs and transform your environmental programs into assets.
Services are provided by WM Healthcare Solutions, Inc., a Waste Management company.