Solid Waste and Recycling
When it comes to efficiently handling solid waste recycling, no other company in North America offers the experience and resources of Waste Management.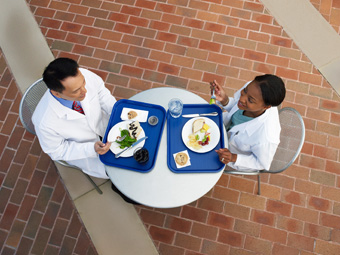 The four Rs.
Reduce. Reuse. Recycle. Recover. The key to driving down your total waste costs is to optimize your institution's post-consumption materials management.
Consider that fully 80% of a typical hospital's waste consists of municipal solid waste, which is no different from general weekly neighborhood curbside collection. There's room for improvement, and we're ready to help.
As North America's leading provider of solid waste and recycling services, Waste Management has more disposal, recycling and treatment facilities than any other company in the industry.
Being flexible and forward-thinking enables our company to successfully tackle difficult waste issues. Our new recycling programs for medical plastics, now in development, is one recent example.
What's more, up to 50% of solid waste can be affordably recycled, beneficially reused or even composted.
At Waste Management, our renewable energy projects create enough energy to power more than a million homes each year. And, last year alone, we recycled enough paper to save 41 million trees and enough products to fill the Empire State Building more than 12.5 times.

Our goal is to nearly triple our recycling volumes by 2020.
The value of waste
Recycling isn't simply good for the environment. A well-designed program will also boost the performance of your healthcare institution from day one and for many years to come. Waste Management can help you develop a comprehensive recycling program that has a positive impact on your hospital's bottom line.
Depending on materials markets, recycling can actually add dollars to your bottom line.
The prospective savings associated with the estimated 50% of waste that can be reduced, reused or recycled is significant.
Unlike less-capable suppliers, Waste Management's substantial national presence, infrastructure capacity and supplier relationships give us a unique ability to "make markets" where none previously existed.
Training
We currently work with thousands of healthcare institutions. Our experience has shown us the importance of training, energizing and motivating hospital staff to ensure that waste is properly classified. Our healthcare specialists have developed effective programs that make this complex subject easy to understand and simple to implement.

We can work with you to develop flexible, forward-looking educational strategies that make your staff proficient in the skills necessary to "put waste in its proper place" and reduce the volume that goes into higher-cost waste categories. In this way, you can recover a greater portion of the value from your waste.
Services are provided by WM Healthcare Solutions, Inc., a Waste Management company.