The Sustainable Pharmacy®
A total prescription for waste compliance.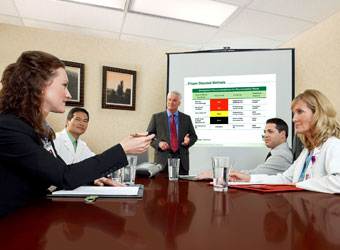 Contact Us
For more information:
As the nation's largest environmental services provider, Waste Management has a national reputation for excellence in guiding companies of all kinds and sizes toward environmental sustainability. In recent years, governmental regulation of pharmaceutical waste has tightened and expanded beyond the Environmental Protection Agency's Resource Recovery and Conservation Act of 1976. In response, we've put our years of specialized experience and regulatory knowledge to work, to develop the Sustainable Pharmacy® to help healthcare professionals address the complexities of managing pharmaceutical waste.
The Sustainable Pharmacy® provides advanced tools that let you access the most up-to-date information on pharmaceutical waste categorization, along with help from sustainability experts who work at the forefront of pharmaceutical and environmental issues. Let us tailor an action plan that will propel your healthcare facility toward sustainability while helping you reap maximum business value.