Pharmaceutical Solutions for Clinics
At federal and state levels, there is a maze of governmental regulations regarding how businesses, including healthcare clinics, must manage and dispose of hazardous and pharmaceutical waste.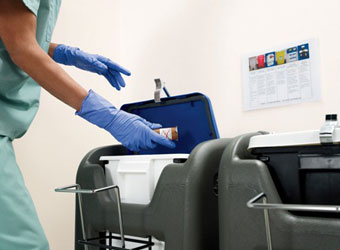 Contact Us
For more information:
However, complying with these regulations is no simple matter. It involves knowing the hazardous waste status of every pharmaceutical product you handle, how to properly segregate that waste, and how to dispose of it in full compliance with all applicable regulations.
Our PharmE® Waste Wizard® can help you quickly find your way through the maze. These easy-to-use tools give you a clear picture of your entire pharmaceutical inventory and guide you to the correct ways to manage the product waste.
Do you know how to properly manage the waste when a pharmaceutical product is discarded? Use our patented Waste Wizard to search our online database of more than 170,000 pharmaceutical products. Search by NDC number, product name, generic name or ingredient.
For environmentally responsible collection, transport, treatment and disposal of both hazardous and non-hazardous pharmaceutical waste, rely on Waste Management, the nation's largest environmental services provider. We operate 16 waste-to-energy facilities, and work with an extensive network of hazardous waste service companies and treatment facilities.
Services are provided by PharmEcology Services, WM Healthcare Solutions, Inc., a Waste Management company.