Manufacturing and Industrial Waste Disposal
From individual facilities to enterprise-wide networks, you can depend on Waste Management as your one-stop source for customized solutions that deliver bottom-line results.
Maximize your operation's materials value and minimize your overall environmental footprint with Waste Management's zero-waste initiatives.
Waste Management offers an unparalleled range of solutions to meet your complex business and regulatory needs. Your one-stop source for customized industrial waste disposal solutions, Waste Management delivers bottom-line results for facilities and networks big and small.
What is Industrial Waste Management?
Industrial waste management is a carefully constructed and environmentally conscious plan to dispose of solid, special, or hazardous wastes generated by various industries. Prioritize your performance, safety, and efficiency with Waste Management's superior equipment, facilities and expertise to help you:
Reduce process residuals
Minimize risk
Reduce total cost of management
Streamline operations
Achieve environmental compliance
And develop waste management plans, recycling programs, and waste minimization solutions.
Hazardous Waste
Manage your hazardous and non-hazardous waste carefully and conscientiously while staying fully compliant and environmentally-friendly with Waste Management. We offer industry-leading technology and services so you don't have to worry about what you'll do with potentially problematic industrial waste.
WMSolutions is dedicated to providing specialized industrial and hazardous waste solutions for large and small manufacturers, industries, and organizations.
Sustainability Services
Meet environmental and regulatory demands—and your business needs—when you partner with Waste Management. We put industry best practices and advanced technology to work for you, from initial sustainability audits to ongoing program implementation.
WM Sustainability Services has the experts you need to provide customized sustainability strategies that deliver real business value, as well as a full service, ISO14001-certified special services division dedicated to optimizing costs and driving efficiencies.
Get Started
Contact our industrial waste disposal professionals today.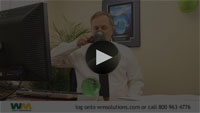 Find out moreContact our Manufacturing & Industrial specialists today.