Community Partnerships
Creating a sustainable world takes the concerted efforts of all kinds of people.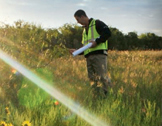 At Waste Management, we are inspired by the diverse viewpoints, talents and dedication of the communities and organizations we're privileged to have as partners. The thread that unites is that we are all, in some way, working to make a positive impact on the environment and further the goal of sustainability.
Keep America Beautiful
Waste Management works with Keep America Beautiful (KAB) to prevent litter and reduce waste in communities all across the country. With more than 565 affiliates and hundreds of participating organizations, KAB is the nation's leading nonprofit organization dedicated to environmental improvement and beautification.
KAB enlists millions of volunteers in these efforts. It works with businesses, schools, neighborhood groups and local governments to improve the land, water, and built environment. Together, Waste Management and Keep America Beautiful support an array of activities that encourage everyone to reduce, reuse and recycle – making our communities cleaner, greener, safer and more livable.
City Livability Awards
There are about 1,100 cities in this country with populations of 30,000 or more. Waste Management is the corporate sponsor of the City Livability Awards, which honor ten of those city governments and their mayors annually for programs that enhance the quality of life for their residents.
The Awards, established in 1979, are presented by the nonpartisan United States Conference of Mayors. Each year in January, cities receive guidelines for preparing their applications. The winners are selected by an independent panel of judges and announced at the Annual Conference of Mayors in June.
Wildlife Habitat Council
Explore the habitat we're creating from landfills to protect wildlife, and read about our educational programs for school and community groups. Discover more. [link to community page of new website]