Waste Management of Arizona (WMAZ) offers a variety of services for construction sites and special events.
LEED® Projects
WMAZ can assist contractors working towards a LEED certification with recycling and other disposal needs. Our team is internally accredited on the Materials and Resources section of LEED® New Construction, and they can help you meet your diversion goals and earn valuable points. For more information, call (602)305-4317 and ask for a LEED construction representative.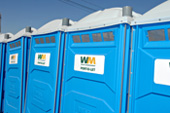 Portable Toilets
Waste Management's exclusive Port-O-Let services are ideal for outdoor worksites, special events or anywhere else temporary sanitation services are required. Units sized from single stalls to trailer-sized Crowd Pleasers are available to accommodate your employees and guests. Click here for available options.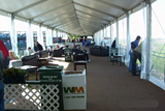 Events
WMAZ can customize a program to fit all your event needs, including trash and recycling receptacles.
Roll-Off Services
WMAZ provides roll-off boxes to customers that are used on construction sites and other areas to collect and remove large amounts of debris. We can tailor a program to meet the needs of any sized project. Roll-off bins can be utilized for Construction and Demolition "C & D" trash or recycling needs. They are available in most areas in the following sizes:



WMAZ Construction & Events Terms & Conditions