Location
2183 N. Coyote Pl.
Huachuca City, AZ 85616 Map It
(Oak St/Coyote Place)
(520) 458-2421
Hours of Operation
Monday to Friday 4:30am - 5pm
Not open to the public.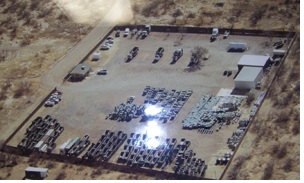 Services
Residential & commercial trash pick-up
Roll-off services
Construction services
Port-O-Lets (portable toilets)
Bulk pick-up
Watch for information about a new recycling program coming soon to the area!
Acceptable Wastes
Residential & commercial trash, construction & demolition debris, landscape and site cleaning waste, paper products
Unacceptable Wastes
Car bodies, hazardous waste, pesticides, radioactive wastes, dead animals, batteries, tires, herbicides, explosives, liquids/septage, appliances containing refrigerants
New & Existing Residential Customer Inquiries
Contact Us
New Business and Construction Services
Email: swcc_ibc@wm.com
(520) 458-2421