Recycling & Environmental Stewardship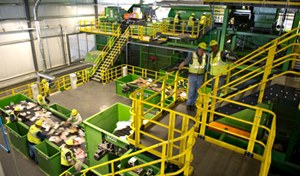 Introducing the Arizona Community Ecocenter in Surprise, Arizona—the next generation of recycling. Learn More >>
Email Us or call (602)328-5897 to schedule a tour of our Education Center
Recycling Overview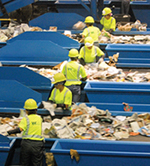 Recycling helps the environment by reducing greenhouse gas emissions, lessening the need for new landfills, saving energy, cutting air pollution, and conserving resources for future generations. Waste Management of Arizona (WMAZ) is committed to protecting the environment. In fact, our corporate directive is to triple the amount of recyclables we collect nationwide by 2020 and to reduce our fleet emissions by 15%. WMAZ is constantly striving to attain those goals, developing innovative, efficient recycling options for homes and businesses in our state.
Single Stream Recycling
Single-Stream recycling allows customers to mix recyclable paper, plastic, and aluminum cans all in one bin. The materials in the bins are collected, taken to a transfer station then delivered to a Materials Recycling Facility (MRF) where they are sorted. The Single-Stream system has made recycling much more convenient for customers, eliminating the need to sort and store materials in several different bins. The Recycling Process
*Waste Management of Arizona now accepts juice and milk cartons in our single-stream recycling bins.
Recycling Guidelines
Acceptable Recyclable Materials - Northern & Central AZ
Acceptable Recyclable Materials - Pima County
Residential Services
Waste Management of Arizona provides curbside recycling to thousands of residents across the state. We also offer recycling options for compact fluorescent lights (CFL's), batteries, and used electronics.
Business Services
WMAZ can help your business go green. We supply recycling containers of all sizes, including desk-side containers. We also have programs for fluorescent light disposal, battery medical needle disposal, tv and electronic disposal, ballast disposal, and toner/inkjet recycling.
Toner, Inkjet and Cell Phone Recycling
Waste Management now offers a recycling program for printer and fax copier cartridges and cell phones. We have a variety of containers and bulk options to fit your needs.
Medical Waste Disposal
The MedWaste TrackerSM provides individuals, companies and institutions a way of disposing used hypodermic needles, lancets, test strips and other small quantity medical waste. Each system includes a specially designed sharps container and a postage-prepaid shipping container ensuring your medical waste will be delivered safely by the U.S. Postal Service to a certified medical waste resource recovery facility.
Electronics Recycling
We make it easy to recycle old electronics — and keep your hazardous materials out of landfills — through our nationwide network of drop-off facilities or on demand via our eScrapTracker™ service.
WM Recycle America
Recycle America® is a wholly-owned subsidiary of Waste Management, Inc. that promotes environmental stewardship through material conservation and reuse. WM Recycle America provides a level of service, expertise, and value unmatched by any other recycling organization.