Grass Valley, Nevada City and Nevada County customers, please click here to view your collection day and 2016 Recycling and Green Waste Calendar.
---
Waste Management provides high quality refuse and recycling collection services to local residents and businesses. We are justifiably proud of taking care of our customers, while working to keep efficient operations and fair rates. We have worked well with our local communities to offer programs that meet and exceed state-mandated recycling requirements, and have been proactive in areas of waste reduction, recycling yard trimmings processing and conversion of diesel vehicles to alternate and less polluting fuels.

Waste Management of Nevada County
Grass Valley Ave., Grass Valley CA
530-274-3090
Used Oil Pick-up Program
At the request of a residential customer, used oil filters and motor oil will be collected in sealed containers provided free of charge by Waste Management. Please call or email Customer Service for delivery of the special oil container and filter bags. Click here for more information.
Curbside Battery Pick-up Program
If you have curbside service, household batteries may be placed on top of your recycle cart in a zip lock bag on your regular collection day. The batteries will be collected along with your recycle cart items. Click here for more information.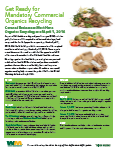 AB 1826 Mandatory Commercial Organics Brochure
---