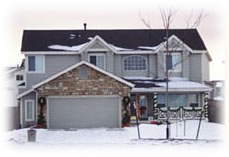 Have you ever imagined how nice it would be if everyone in your neighborhood had their trash out on the same day of the week? The people of Waste Management have imagined just that very thing. We offer neighborhoods like yours the opportunity to join together to consolidate their solid waste and recycling collection vendor offering benefits to the neighborhood and community. There are numerous benefits to this concept. The most impressive is the significant savings the residents of the neighborhood will gain from this program. Home Owner Associations (HOA's) that pay monthly dues find great economies in contracting with one solid waste and recycling collection company.
Benefits
Reduced monthly rates for the residents of the HOA
Trash will be out on the street only one day per week, improving the aesthetics of the neighborhood
Reduced truck traffic, therefore reduced air and noise pollution in the neighborhood
Serviced by a national company with worldwide recognition as the industry leader in waste management
Serviced by an account manager available to meet with you to assist you with all of your HOA's needs
Serviced by professional drivers who are trained in the "Neighborhood Watch Program", partnering with you to maintain safety in your neighborhood
Large fleet of vehicles to insure the neighborhood is picked-up regularly and on time
If you would like to have an account manager contact you regarding a possible HOA account, contact customer service.