2018 Yard Debris Recycling Program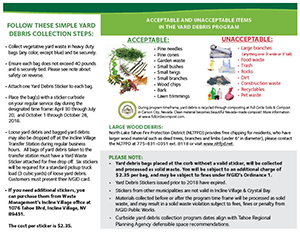 Help Wanted!
WM has a position available for an experienced mechanic at our Incline Village location. Click here for more information.
Service Interruption Hotline
855-894-9650
Waste Management has launched a toll-free hotline to keep Incline Village residents informed of changes in their collection schedule due to weather or other unexpected factors. Dispatchers will continue to attempt to contact customers by text, email and phone as well. Please go to WM.com to update your contact information for service alerts.
TRANSFER STATION
1200 Sweetwater Drive
Monday-Friday: 8 a.m. to 4:30 p.m.
Saturday: 8 a.m. to 4 p.m.
Sunday: 8 a.m. to 4 p.m.
About Waste Management of Nevada
Waste Management of Nevada is a community-based provider of environmental solutions. As the leading provider for commercial and residential curbside collection for disposal and recycling, Waste Management of Nevada delivers local solutions with the knowledge and resources of the nation's largest environmental services company, Waste Management. In April 2012, Waste Management opened the Landfill Gas-to-Energy facility at the Lockwood Regional Landfill. It produces 3.2 megawatts of renewable energy capable of powering more than 1,800 homes by using landfill gases. The Lockwood Regional Landfill is also a Wildlife Habitat Council site that provides protection for various raptors in Northern Nevada.