Waste Management provides residential and commercial collection services for trash and recycling. WM Utah is dedicated to excellent customer service and long-term relationships built on the fundamental values of trust, service and commitment. Waste Management also has a clear and dedicated commitment to the responsible management of the environment and to keeping our communities safe. WM has an unwavering resolution to provide the highest quality service while protecting our environment today, and for future generations
Commercial
WM Utah offers a variety of permanent and temporary services to hundreds of businesses throughout Utah. We are dedicated to excellent customer service and long-term relationships built on the fundamental values of trust, service and commitment. We have the industry's largest selection of waste bins, roll-off containers and compactors. We offer commercial containers in 2, 3, 4, 6, and 8 yards.
Our driver safety record is exemplary and our drivers provide clean and dependable waste and recycling collection. With excellent service a top priority, we provide a professional customer service staff that is trained and standing by to answer all of your service-related questions.
Dumpster Rental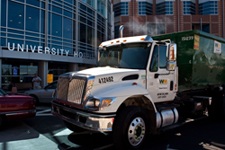 Waste Management's temporary container services include bins, roll-off containers and compactors in a variety of sizes to fit your every temporary waste collection need. Perfect for construction and remodeling projects, demolition jobs, special events or any other short-term commercial endeavor.
Streamline your waste and debris operations with Dumpster.com and get your business moving. Scheduling and payments are easy. Ordering online is fast and easy. With just a few clicks, your dumpster will be at your site on time and then out of the way when you are done. To receive a quote and order your dumpster online today, visit us at: www.dumpster.com.
Residential
Waste Management's residential line of services offers our customers weekly curbside solid waste pick-up and every other week curbside recycling pick-up depending on your residential location. Our network of residential customers involves the servicing of single-family homes, mobile home communities, and town homes through municipal contracts, individual subscription services or as part of a Home Owners Association (HOA).
It is Waste Management's goal to be part of every community in which we operate. Our community involvement includes, but is not limited to, supporting community events and programs, memberships with local and regional Chambers of Commerce, participation in neighborhood watch programs, and assisting municipalities with community-wide discounted spring and fall clean-ups. Place your order for service today by contacting us to speak with a member of our sales staff.
Curbside Solid Waste: http://www.wm.com/location/colorado/co/residential/waste.jsp
Curbside Solid Waste
Waste Management is the nation's leading provider of solid waste collection and disposal for residential households. It is our goal to provide you with the quality service you deserve at a cost you can afford. Our curbside solid waste collection allows for unlimited disposal of bagged or containerized household trash and up to ten bags of yard waste per pick-up. Large items or bulk items such as furniture and appliances can be picked-up and disposed of for additional costs with our special pick-up services.
Container Sizes
For safety reasons, we ask that you use trash bags or trash containers no larger than 32 gallons, weighing less than 40 pounds when fully loaded. Please do not put your trash in 55-gallon drums, paper sacks or boxes. If using a larger trash container, trash must be bagged.
Pick-Up Policy
To ensure prompt pick-up for all of our residential customers, please have your trash out by 7:00 a.m. on the day of your scheduled pick-up. Curb customers are requested to place trash at the curb or alleyway, outside fences or gates. For alley service, please mark your street address in the alley or on your containers for identification by our drivers.
Other Materials
Branches need to be cut into four foot lengths or less and tied in bundles no more than twelve inches in diameter. Please limit your weekly pick-up to four bundles.
Leaves and grass clippings should be enclosed in trash bags and placed with your other items for curbside collection. Each bag needs to be 40 pounds or less. Please limit your weekly pick-up to ten bags.
Please do not place any liquid waste (oil, paint, etc.) or batteries in your residential trash. If you must dispose of these items, please contact our office for information on collection or drop-off programs available in your county.
Please flatten your cardboard boxes prior to placing at the curb for collection.
Special Services
Waste Management offers special pick up services for large items or bulk items such as furniture or appliances. Special pick-ups can be arranged by contacting us online or calling our customer service center at (800)482-6406. This service does cost extra but offers you the convenience of disposal at a fair cost.
If you are preparing for that remodeling project, reroofing project or are simply cleaning out the garage, Waste Management can assist you. These types of projects typically generate large volumes of waste and a roll-off container would be ideal. If you have any questions, please contact us or call our customer service center at (800)482-6406.
Transfer Stations
With the large volume of solid waste generated from urban markets, it is often not feasible or economical to transport waste directly from the collection point to the landfill, which is usually situated some distance away from the generation point. In these instances, Waste Management has Transfer Stations strategically located to accept waste from collection trucks. At these Transfer Stations, waste is consolidated, compacted, and loaded into long-haul trailers for transport to landfills. This operation improves the utilization of collection equipment by minimizing transportation time and efficiently moving large volumes of waste to our disposal sites. With most of the waste we collect going into our landfills, our supporting network of transfer stations and hauling operations provides the important link for the efficient disposal of waste within a radius of 100 miles or more, from both urban and rural markets.
To find a transfer station near you, visit: http://www.wm.com/facility-locator.jsp?state=UT.