Involvement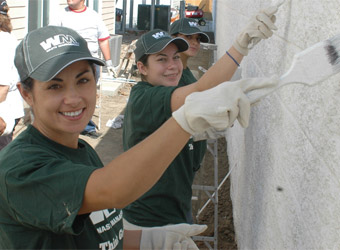 Waste Management strives to be a good corporate citizen. This includes becoming involved with local and company wide organizations that are working hard to address community concerns. Waste Management actively supports many events and celebrations. Whether extending our service to these special events, helping to host them or providing employee volunteers, WM is involved in activities that help make communities safer, stronger, better and more fun.
Wildlife Habitat Council

Across the U.S. and Canada, 116
Waste Management facilities
have received the
Wildlife at Work
sm
certification. 18 of these facilities have also received the
Corporate Lands for Learning
certification.
For more information about the Wildlife Habitat Council, visit
www.wildlifehc.org
.
City Livability Awards

The Conference of Mayors City Livability Program, sponsored by Waste Management, honors mayors and their city governments for developing programs that enhance the quality of life in urban areas. Established in 1979, the City Livability Awards are given annually to ten mayors and their cities--a first-place award and four Outstanding Achievement Awards for cities with populations under 100,000 inhabitants, and a first-place and four Outstanding Achievement Awards for cities of 100,000 or more inhabitants.
Keep America Beautiful
Keep America Beautiful (KAB)
is the nation's leading nonprofit organization dedicated to community improvement through beautification efforts. For over 50 years, KAB has combined education with hands-on stewardship to prevent litter and reduce waste, making America's communities cleaner, greener, safer, and more livable.