From golf to employee referrals to SDO, catch up on
all the big happenings this year
Okay, so maybe you missed an edition or two of WM Monday. No need to worry — we've got your back. Read through this recap of the year to get caught up on all the big stories of 2013.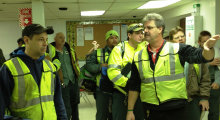 1. Service Delivery Optimization (SDO) improves efficiency
It was a big year for SDO, Waste Management's transformation initiative to implement process changes and
technological advances, such as on-board computers, centralized dispatch and centralized routing. This year,
more than 30 sites became SDO-certified, meaning they consistently performed at the level of a world-class
logistics company.
In addition, WM piloted Maintenance SDO (MSDO), an effort similar to SDO but focused on the company's
maintenance shops. MSDO will launch in early 2014 and lay the foundation for standardized processes,
coaching, accountability, continuous improvement and performance management.
Photo: Route Manager Dave Schultz (right) leads hauling employees during their morning huddle.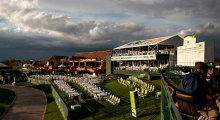 2. Waste Management Phoenix Open a success
During the weeklong tournament, WM not only set an environmental record, achieving a 100 percent
diversion rate, but also set a one-day attendance record with a record 179,000 fans on Saturday. Later
in the year, the WMPO won Gold Certification from the Council for Responsible Sport.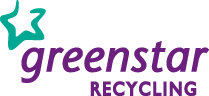 3. WM acquires Greenstar Recycling
Early in the year, WM acquired Greenstar Recycling, a major North American recycler with 12 material
recovery facilities, a brokerage business and 12,000 customers. Since then, transitioning Greenstar into
the WM business has come with challenges. Read about some of those challenges under "Green Fence."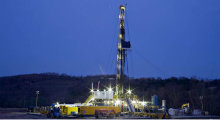 4. Energy Services grows
After making two acquisitions in North Dakota — Summit Energy Services and Liquid Logistics — WM put
itself in a good position to provide comprehensive services to oil and gas customers along the Bakken Shale,
one of the largest US oil fields.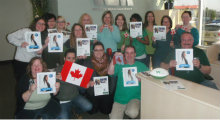 5. Candice Glover wins American Idol
Daughter of WM Driver John "Ricky" Glover, Candice won the year's biggest singing competition.
During Glover's run on American Idol, Corporate Communications asked employees to submit photos
of how their site was showing their support. Over the course of several weeks, approximately 100 photos
were submitted from across the country. Those photos were then uploaded into a Facebook album,
which became the most viewed album in the company's history.
However, she wasn't the only one with a connection to WM to make it in the spotlight. Also during 2013,
Ops Specialist Stephanie Stevens (Elkridge, Md.) appeared on Jeopardy; Senior Business Analyst Adam
Mallory (Windsor, Conn.) made it on The Price is Right; and sales representative Alex Limongelli
(Vancouver, B.C.) won Come Dine With Me, Canada's number one reality show.
Photo: Employees in Eastern Canada show their support for Candice.
6. Winners announced for 100 Days of Summer Safety
Competition was fierce this year as Areas competed to see who would win the company's 100 Days of
Summer Safety challenge. Results were close. In fact, for the first time in the competition's three-year
history, the company recorded a tie. Congrats, again, to these winners.
Best Overall Winner – Northern Tier (Tie)
Mich., Ohio & Ind.
West Penn., Md., W.Va. & Va.
Best Overall Winner – Southern Tier
Gulf Coast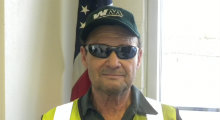 7. Ruben Alcantara wins Driver of the Year
During the 2013 Waste Expo, the Environmental Industry Association named WM employee Ruben
Alcantara their Driver of the Year for the large commercial category. More than 230 drivers from
across the country applied for the prize, but Alcantara won thanks to his 43 years of service and
an outstanding safety record.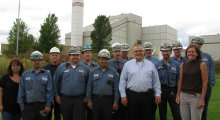 8. Wheelabrator wins SWANA award
In September, Wheelabrator Technologies was named winner of the Solid Waste Association of North
America (SWANA) Gold Excellence Award in the waste-to-energy category, recognizing the company's
exceptional operations at its facility in Spokane, Wash. The award, which was given to the company during
SWANA's annual conference, recognized the site for its high-quality service, superior technical design,
demonstrated excellence in health, safety and environmental compliance, and its ongoing commitment to
community engagement.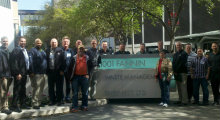 9. Drivers give a piece of their mind through Council
With initiatives launching across the North America to improve processes, logistics and efficiency,
drivers are on the frontlines of it all. Not only that, they care about their jobs and have good ideas on
how to deliver the best service, as well as insights into what obstacles lie ahead.
Capturing driver feedback is the reason behind the formation of the WM Driver Council, consisting
of 17 drivers (one from each Area) selected by their Area leadership. At their second meeting, held
in 2013, the drivers attended sessions that covered a variety of topics, including an update on the
Florida training center, overview of the WM strategy, discussion of effective communications and
updates on DriveCam, safety and Service Delivery Optimization (SDO).
According to Teddy Cranford, roll off driver in Washington, D.C., "It's been an awesome experience.
It's nice to know our senior leaders really care."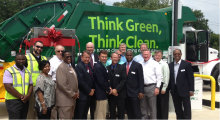 10. WM opens 50th natural gas fueling station
On July 31, WM opened its 50th natural gas fueling station in North America, which will help to power
an entire fleet of alternative fueled trucks. Located in Jackson, Miss., the facility hosted a ribbon cutting
ceremony to commemorate the occasion and was attended by state, county and local officials, as well
as WM leadership.
In total, the company operates more than 2,200 alternatively fueled vehicles and has the largest fleet of
natural gas collection trucks in North America. Each heavy-duty diesel collection vehicle replaced by
a CNG vehicle leads to a reduction in diesel use by an average of 8,000 gallons per year, cutting
annual greenhouse gas emissions by approximately 22 metric tons. The trucks are also significantly
quieter, which customers appreciate.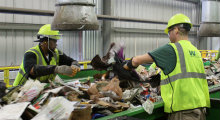 11. China's Green Fence
Since the beginning of the year, Waste Management has faced several challenges from the recycling
side of the business, the most evident of which are lower commodity prices and the "Green Fence," an
industry term describing quality standards being imposed by China.
To overcome these challenges, WM is taking a variety of steps to increase earnings and decrease
volatility. This includes developing new processes at recycling facilities to lower contamination rates,
reworking recycling contracts to protect WM against higher costs and educating customers on what
can and can't be recycled to prevent contamination (see next story).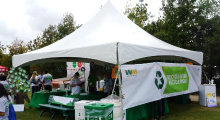 12. Recycle Often. Recycle Right.SM campaign begins
On November 15, WM formally launched its Recycle Often. Recycle Right.SM campaign to encourage reuse
among residential customers, as well as educate on the proper way to recycle. At its premiere event,
held in The Woodlands, Texas, WM sponsored an America Recycles Day fair, where company
volunteers interacted directly with attendants.
The company also produced an official video for the Recycle Often. Recycle Right.SM campaign, which can
be viewed on YouTube. While it will take time for commodity prices to rebound, and contamination rates to improve,
WM will be in a good position once recycling turns the corner.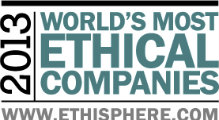 13. WM named among World's Most Ethical Companies
For the sixth year in a row, Waste Management was named to the Ethisphere Institute's list of World's
Most Ethical Companies, citing deep commitments to strong corporate ethics, community
service and sustainability.
In addition, WM was the only company to appear in the Environmental Services category. For this year's
listing, Ethisphere evaluated a record number of applications from more than 100 countries and 36
industries. After conducting in-depth research and analysis, Ethisphere only named organizations
that surpassed their industry peers to be on the World's Most Ethical Companies list.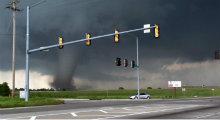 14. Donation to Moore, Okla.
Following the devastating tornado that struck Moore, Okla., in which 23 people were killed and 377
injured, WM made a $50,000 donation to the American Red Cross Disaster Relief Fund. In response,
the company received a certified letter from Okla. Governor Mary Fallin, who thanked WM for its support.
Moore continues to be an important location. The company offers commercial services within the area
and operates one landfill and one hauling site. WM employees also committed hundreds of hours to the
recovery effort by providing crucial collection and volunteer services to the community.
15. Mission to Million sweepstakes launches
The Community Connection program, where employees hand out promotional cards to current and
prospective customers, had a big year in 2013. Following an announcement by Chief Marketing Officer
Dave Aardsma, the company is now striving to reach one million connections by the end of 2014.
In the months following that challenge, many of the Areas stepped up. The Gulf Coast, under Area Vice
President (AVP) David Myhan's leadership, exceeded its goal to reach 25,000 customers by the end of
2013. In addition, the South Atlantic Area, under AVP Tracey Shrader, went from being a "last place"
Area, in terms of connections, to fifth.
Read up on the winners of this year's Mission to a Million sweepstakes (page 5) and get ready for 2014,
when efforts around this program will increase.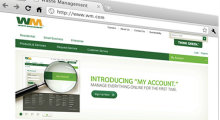 16. WM.com gets more customer friendly
The past year was a good one for wm.com, the company's main website for all things Waste
Management. Receiving approximately 1.5 million visits a month, the site not only generates
significant revenue in online sales, but is also evolving into a tool that customers can use for
billing, scheduling and general account management. In 2013, wm.com added functionality
that allows customers to:
• Check on the status of their pickups (called ETA)
• Get information on collection dates and holiday schedules
• Schedule pickups for roll off containers
In October, the company also launched its first account management app, WM Mobile, which
gives customers easy access to their accounts using a smartphone or tablet. In addition,
wm.com received an upgrade in December when it became mobile-optimized, meaning that
customers using a mobile phone to access the website will receive a much better user experience.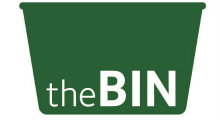 17. The Marketing Bin launches
Replacing the now retired Online Marketing Center (OMC), the Marketing Bin (or just The Bin)
is a one-stop shop for Waste Management marketing materials, including logos, photos, videos
and ads. The new site also features quick search functionality and customizable collateral. Not
only that, all materials can either be downloaded directly or ordered through the company's print
shop. Visit the new Bin at http://marketingbin.wm.com or simply find the link on the Sales and
Marketing Visor page. Use your WM username and password to log in.
18. WM Monday goes digital for drivers
For more than a decade, WM Monday has been the company's main source for WM news and
information. However, like any medium, reaching an audience as large as 43,000 people can
come with a lot of challenges. For example, more than half of the workforce is without a WM
email account (or access to Visor).
To make content more accessible, the company launched WM Monday Digital in September
for any employee who wants to receive news on their home email account. Sent every Monday
afternoon, the news publication has content featured in WM Monday, as well as other items,
like videos, photos and new from mainstream media outlets.
19. Employee referrals get easier
It used to be that referring a friend or relative to a WM position was a paper-based process
that came with administrative headaches. In October 2013, everything changed for the better.
Now, all employees need to do is visit www.myWMjob.com to submit and track referrals online.
Once a referral is hired, and stays with the company for 100 days, the employee who made the
reference gets a $500 reward.
There is no limit to the number of referrals an employee can make, but keep in mind that each
must be submitted before the candidate applies for a position. Beginning in 2014, paper forms
will no longer be accepted.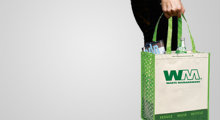 20. WM opens online store
In November, WM announced a new online retail store that gives customers and fans access to a range
of WM-branded merchandise. Called Green Gear, the site is filled with products customers have been
requesting for years, including shirts, hats, pens and sustainability items made from recyclable materials.
From birthday party supplies to environmentally friendly products, help spread the word by inviting a friend,
relative or WM fan to browse the full inventory of items.