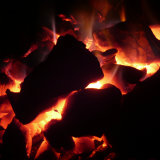 Electric utilities provide new business opportunities for WM
Knowing industrial customers leads to increased sales from coal-burning power plants

HOUSTON When Waste Management looks at new ways to grow the company, some of that growth will come from the electric utility industry. Coal-fired power plants are the single largest generator of nonhazardous industrial waste (fly ash, bottom ash and synthetic gypsum). All of these materials must be reused or disposed of in an environmentally safe way.

Enter Waste Management.

What's left after coal is burned is:
First – beneficially reused as an additive to cement, wallboard or agriculture;
Second – buried in the utility's on-site landfill; or
Third– shipped to an offsite landfill.

"A combination of new U.S. environmental regulations and shifting needs have led to our development of a full service WM offering to our utility customers," said Harry Lamberton, vice president of energy and environmental services. "We can provide not only collection and disposal on- or off-site at the customer's plant, but also beneficial reuse programs and environmental remediation and consulting services."

To take advantage of this new opportunity, late in 2012, Waste Management acquired Fly Ash Direct, a company that processes and markets coal byproducts to the cement industry. In 2011, WM also created a new construction and remediation division to design, build and operate onsite landfills and offer environmental remediation services for the onsite needs of power plants.

"In the past, WM didn't have a beneficial reuse offering for our customers or an on-site landfill management program," Lamberton said. "We now have a full suite of offerings that is backed not only by WM's financial strength, but also our experience working with regulators, non-governmental organizations and communities. This is an example of knowing our industrial customers to differentiate ourselves in the market. It's a very customer-centric program."

PHOTO: The byproducts of coal burning power plants are providing new business growth for Waste Management.