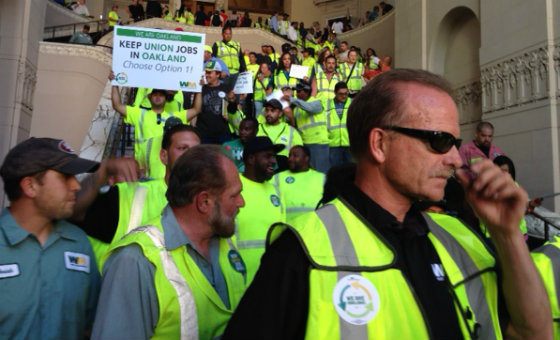 Big turnout of WM employees at Oakland City Council meeting
Three new contracts are out for bid

OAKLAND, Calif. More than 200 Waste Management of Alameda County employees from the hauling district, Davis Street Transfer Station and Altamont Landfill came out in force to the Oakland City Council meeting in Oakland, Calif., on June 17.

Commercial and residential drivers, mechanics, sorters and heavy equipment operators rallied together to show their commitment to Oakland. "Our dedicated employees along with the leaders of Teamsters Local 70 told the Council that WM of Alameda County is the only choice for zero waste services," said Barry Skolnick, Area vice president for Northern California Nevada.

The Council is considering competitive bids for its zero waste services contracts for recycling, mixed materials and organics, and disposal. The vote is not expected to take place until later this summer. The three new contracts begin July 1, 2015.