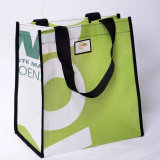 New WM tote bags now available on wmgreengear.com

HOUSTON A new line of tote bags made from the 2014 Waste Management Phoenix Open (WMPO) tournament banners is now available for purchase. The bags can be ordered for around $20 each plus tax and shipping on the Waste Management Green Gear website (www.wmgreengear.com).

In keeping with the WMPO's zero waste goal, the bags are made from repurposed mesh and vinyl from both the 2014 and earlier tournaments. Supplies are very limited, so order now.