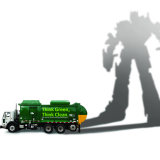 TRANSFORMERS™: AGE OF EXTINCTION employee sweepstakes begins
Every "connection" earns your chance to win the Grand Prize

HOUSTON In partnership with Paramount Pictures, and their upcoming film TRANSFORMERS ™: Age of Extinction, Waste Management is giving employees a chance to win a major grand prize trip for four to Paramount Studios in Los Angeles.

Available in both the U.S. and Canada (excluding Quebec), employees can enter through the Community Connection program, which encourages workers to serve as an advocate of the WM brand using a simple card as a conversation starter. To get involved, simply carry a Community Connection card into a small business, hand it to a manager or business owner and then either thank them for their business or encourage them to switch providers (depending on the type of customer).

Last year, Waste Management set a goal to make one million of these connections by the end of 2014. With much work to be done, employees can win the Transformers: Age of Extinction sweepstakes by entering their interaction on the company's Mission to a Million portal. Here's how:
· Ask your manager to order Community Connection cards from the Marketing Bin
· Make a customer connection. Walk into a local business, hand the manager or owner a card and ask or thank them for their business
· Visit the Mission to a Million sweepstakes portal at https://www.surveymonkey.com/s/missiontoamillion
· Enter information about the connection and then submit

The more connections you make, the greater your chances of winning

A Grand Prize winner will be selected on August 1 from all employee connections submitted into the Mission to a Million portal between June 2, 2014 and July 31, 2014. The trip includes a three-night stay in to Los Angeles, as well as a VIP tour of Paramount Studios. In addition, the top three Areas will receive 200 movie tickets apiece.

"Make a connection through the Community Connection program and enter to win a fabulous prize," said Dave Aardsma, chief sales and marketing officer for Waste Management. "Reaching our small business customers is of great importance to the cities where we operate, and we need all of our employees to support that effort."

TRANSFORMERS: AGE OF EXTINCTION releases June 27. For more information about the Community Connection program, including ordering cards, visit www.wmcommunityconnection

Other Mission to a Million prizes
By entering the sweepstakes, employees are also eligible for the Mission to a Million quarterly prize (drawn on Jul. 9, 2014) and the grand prize.