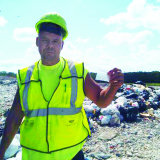 Customer Story #22
Lost wedding rings found in landfill
Like finding a needle in a haystack

One of our residential customers was newly married for only three days when she accidentally threw away her wedding ring set. She had placed the rings in a tiny zippered plastic bag and laid it near the pizza box from dinner that evening. When they cleaned up from dinner that night the rings were accidentally picked up and placed in the trash. The trash was then placed into the condominium's compactor. We couldn't haul the compactor until a week later. With the clues from our customer on what type of trash the customer had plus the determination of our Driver Dennis Sierra, we found the rings among five tons of rubbish. It was truly like finding a needle in a hay stack. Dennis and I were dancing in the landfill when we found it! I love my drivers, they are the best of the best and really care about our customers! Our customer is overjoyed this morning as you can imagine.
— Christi Epperson, Roll Off Route Manager, Naples, Fla.

PHOTO: Driver Dennis Sierra holds up the tiny plastic bag containing a WM residential customer's wedding rings.