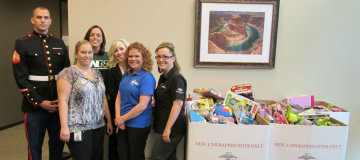 Phoenix office collects "Toys for Tots"
More than 400 donated
Phoenix – The Phoenix Service Center got into the holiday spirit of giving by participating in the
Marine Corps Toys for Tots program. Employees from Billing, RMC, SWCC and Setup/WM
Cares pitched in to donate more than 400 new toys.
Pictured are (L-R) Morgan Mitchell, Jennifer Anderson, Amanda Lynn, Alicia Herrick and
Connie Tirpak making the official donation to a Toys for Tots representative.
Thanks to all employees who participated!