Construction & Demolition Debris Collection and Recycling
If your healthcare organization is undertaking a facility development or renovation, sustainability is probably one of your most important design considerations.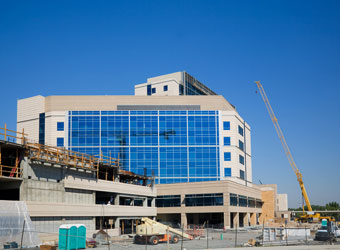 At Waste Management, we can help you reinforce that commitment by setting up an efficient debris recycling program that can yield both environmental and business dividends for your healthcare facility.
Our Construction & Demolition (C&D) recycling programs can reduce your waste disposal costs and help you gain points toward LEED® certification. Backed by our innovative sorting technology and diversion initiatives, we'll manage your construction debris in full compliance with both your project plan and city ordinances.
Watch more about how construction debris is diverted from landfills.
Your material becomes part of the solution.
With Waste Management on your side, you can recycle most common C&D materials, including concrete, porcelain, rigid plastics, tile, lumber, metals, masonry, plastic, rock, carpet and insulation. We then find ways to turn old materials into new resources. Here are a few examples:
Inert material such as brick can become road base.
Cardboard, paper, plastics and metals are converted into new goods.
Clean wood can be recycled as mulch or biomass fuel.
Dirt, rock and sand become landfill cover.
Crushed concrete turns into gravel or dry aggregate for new concrete.
Services are provided by WM Healthcare Solutions, Inc., a Waste Management company.