Waste Management of the Inland Empire provides commercial and multi-family services using bins ranging in size from 2 cubic yards to 6 cubic yards (see sample sizes, below), which can be serviced up to six days per week. Commercial customers may also put out up to, two Waste Management provide 96 gallon carts, which can be serviced one time per week, Monday through Friday. Locked bins are available; push-out service can also be provided.
Commercial recycling services are also provided through the collection of bins or 96 gallon carts, for businesses that generate a low volume of recyclable materials. Click here for a list of what can be recycled.
For pricing and ordering information, please contact customer service at 800-423-9986.
The City has a mandatory recycling ordinance that requires all designated recyclable material be separated from other trash. The disposal of designated recyclable materials mixed with other trash is prohibited. The State of California also adopted a State law which requires that commercial enterprises that generate four cubic yards or more of solid waste weekly be required to participate in recycling programs as of July 1, 2012. This provision also includes multi-family housing complexes of five units or more, regardless of the amount of solid waste generated each week. Click here to read more on California State Law AB341.
As of April 2016, the State's Mandatory Organic Waste and Recycling law (AB 1826) requires businesses that generate 8 cubic yards of organic waste (food or green waste) to arrange for recycling services. Effective January 2017, this requirement will extend to businesses that generate 4 cubic yards of organic waste. Please see schedule below:
Year Cubic Yards Generated Weekly
2016 8 (Organic Waste)
2017 4 (Organic Waste)
2019 4 (Commercial solid waste, regardless of amount of organic waste)
2020 2 (Commercial solid waste, if State does not meet goal)

For more information about organics recycling visit http://www.calrecycle.ca.gov/recycle/commercial/organics/
Sample Bin Sizes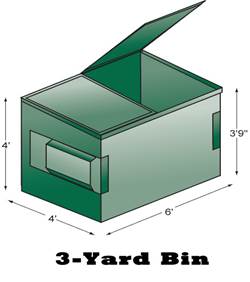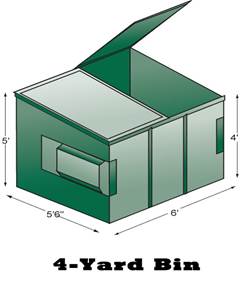 WM offers bin sizes - 1.5 cubic yard, 2 cfubic yard, 3 cubic yard, 4 cubic yard, and 6 cubic yard for trash and recycling.