Waste Management began providing waste and recycling collection services in the City of Laguna Woods on January 1, 2016. We are very excited to become a part of your community.
Weekly Collection Services
Residential trash and recycling collection is provided once per week.
Automated Cart Services:
You will receive two (2) 32-gallon carts for waste and recycling services. If you need a larger container, one will be provided at no charge. Simply contact WM's Customer Service Representatives at the number listed below to request the size that fits your needs.
Special Services:
Do you have a medical need that would require assistance setting out and returning your waste and recycling carts? If so, WM staff can bring your cart from the garage, side yard or backyard. This service is free to residents who qualify and can be obtained for a fee if the service is still desired but you do not qualify for the free service. To be eligible, individual residents must provide a copy of their DMV issued disabled person placard/license plate and a letter from a physician confirming their inability to move carts to the curb. To request an application, please contact WM's Customer Service Representatives at the number listed below.
Billing Information:
Residential collection services are billed and mailed quarterly by Waste Management. If you move from your current address, please leave the containers for the next resident. Waste carts are the property of Waste Management and should be used for automated curbside service only. We also offer paperless billing. To pay your invoice online, click here. Customers who are directly invoiced by Waste Management may reference this Simple Guide to understanding your invoice.
Additional Carts:
If you find that you should need an additional waste or recycling cart after increasing the size of your existing carts, please contact WM's Customer Service Representatives at the number listed below to place your order. There is a charge for an additional waste cart. However, you can receive an additional recycling cart at no additional charge.
Extra Cart Pick-Up:
If you find the need for an extra pickup in a given month, call Customer Service to confirm the rate for this additional service and arrange for a pick-up.
Service Inquiries:
If you have any questions regarding your trash and recycling services, or if you should experience any problems with your services, please contact a Waste Management customer services representative at 949-642-1191.
What Goes In Your Cart?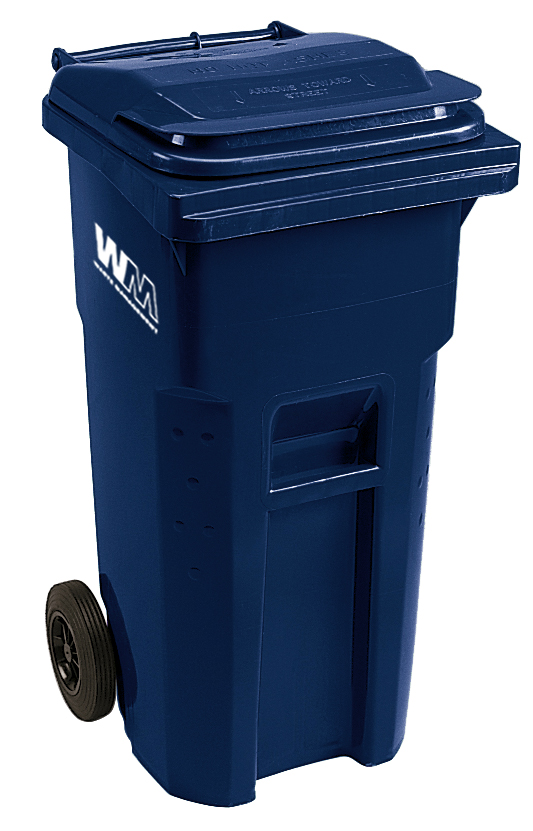 Recycling
Paper/Cardboard
Newspaper
Mixed Paper
Cardboard
Telephone Books, Magazines, Catalogs
Junk Mail
Paper Bags
Cereal Boxes (with plastic liner removed)
Empty Paper Towel & Bath Tissue Rolls
Paper Egg Cartons
Frozen Food Boxes
Detergent Containers
Cartons/Cardboard Milk Containers
Clean & Dry Paper Cups
Plastics
Plastic Beverage Bottles (CRV #1-7)
Plastic Bottles/Jars (CRV #1-2)
Plastic Cups
Plastic Condiment Bottles
Plastic Milk Containers
Juice Bottles
Plastic Bags (bundle inside a plastic bag, tie & place in cart)
Metal/Glass
Aluminum Beverage Cans
Tin cans (canned vegetables & soups)
Food Jars (sauce, mayo, pickles – no residue)
Beverage Glass Bottles (wine, beer, liquor, juice)
Trash ---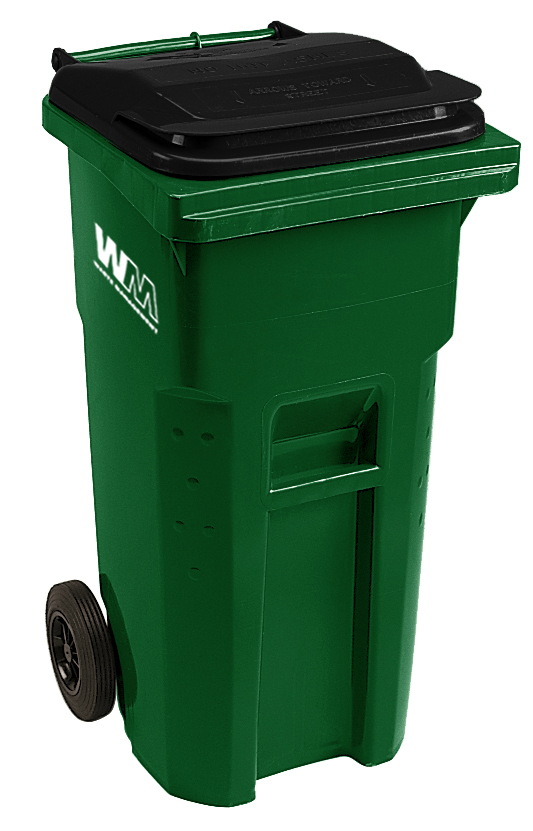 The trash cart is for household waste that cannot be recycled. Filled carts must not exceed 50 pounds when full, and the materials insides should be loosely packed so the carts will empty easily.
Polystyrene Foam (please bag)
Contaminated Pizza Boxes
Soiled Paper Towels/Tissues
Aluminum Foil
Plates/Napkins
Soiled Paper Cups
Cart Service Reminders:
Place all waste in the appropriate cart and close the lid.

Do not overfill the cart. Carts that are overflowing may litter the area during automated collection. Laguna Woods residents are allowed to place up to 5 bags of trash next to the trash cart and up to five times per year.

Place your carts out into the street against the curb (if the curb is present), with handles facing your home. Place carts a minimum of 2-feet apart to allow enough room for the automated arm to service the cart.

Place your carts at the curb or collection area by 7:00 a.m. on your service day to ensure that your carts are not missed due to a late set out. Help preserve neighborhood aesthetics by storing your carts and keeping them out of sight except on collection day.

Bag lightweight items – Small lightweight items such as polystyrene foam and shredded paper items must be bagged. When these items are left loose in the cart, they can be carried by the wind during automated service creating a litter problem in the neighborhood.
Recycling and Diversion Programs
Bulky Item Collection
Waste Management collects furniture, appliances, electronics and universal waste as part of its bulky item collection services. Electronic waste includes items such as televisions, computer monitors, computers, VCRs, cellular phones and other electronic devices. Universal waste items include batteries (AA, AAA, C, D, etc.), fluorescent tubes and compact fluorescent (CFL) bulbs.
Free Monthly Collection:
On the third Saturday of the month, residents can place acceptable bulky items in the same location as your trash carts and/or near your waste and recycling bin enclosure. For free collection, items must be set out by 7:00 a.m. on the specified Saturday. For a list of dates in 2016, refer to the bulky item flyer provided in this packet.
In-Home Pick-Up:
Do you need help removing large bulky items from your home before collection day? This service is provided by appointment only. Customers can schedule two (2) free In-Home Bulky Item collection services per calendar year, with a maximum of five (5) items per pick-up. All electrical items and appliances must be disconnected and ready for removal. To schedule one of your two free in-home bulky item pick-ups, simply call WM's Customer Service Representatives at 949-642-1191 to schedule your appointment.
Sharps Mail Back Program:
Waste Management offers a mail-back service for your sharps and provides two (2) sharps containers per year for residents in Laguna Woods. The mail-back kit contains a specially designed Sharps container and a prepaid-postage shipping container to ensure that sharps are delivered safely by the U.S. Postal Service to a certified medical waste facility, where it is destroyed. Residents can return the pre-paid postage box to their mail carrier or nearest post office at no cost. To order a sharps container, contact WM's Customer Service Representatives at 949-642-1191.
Temporary Bin Services:
In the event you are remodeling or have a general cleanup project, you may need temporary bin service. Depending on the size of the project, it may fall under the City's Construction and Demolition Ordinance. Please check with the City to make sure you understand the terms of the City's Ordinance before you order temporary service.
No matter what the project size, we have a variety of service options available. For smaller jobs, you may order an Insta-bin, a temporary collection bin that is 3 cubic yards, or purchase a Bagster. The Bagster is approximately the same size as the Insta-bin, but it is capable of holding a greater weight. For larger jobs, WM offers temporary roll-off containers, which range in size from 10 cubic yards to 40 cubic yards. For pricing and ordering information, please contact Customer Service 949-642-1191.
Safely Dispose of Household Hazardous Waste
Household Hazardous Waste, Electronics & Universal Waste:
Household hazardous waste (HHW) is any type of household product that requires special handling. According to environmental law, HHW is prohibited from being placed in your regular waste cart. Some of these items are household products that can be labeled with any of the following words: toxic, caution, danger, poison, corrosive, flammable, combustible or irritant.
Typical household hazardous waste includes such items as used motor oil, oil filters, paint, antifreeze and other automotive products, pesticides, household cleaners, pool chemicals, items containing mercury such as compact fluorescent lamps (CFL), thermometers and thermostats.
Electronic waste includes items such as televisions, computer monitors, computers, VCRs, cellular phones and other electronic devices. Universal waste items include batteries (AA, AAA, C, D, etc.), fluorescent tubes and compact fluorescent (CFL) bulbs.
County of Orange – Household Hazardous Drop-Off
Orange County residents can dispose of their Household Hazardous Waste items for FREE at any of the County's Household Hazardous Waste Collection Centers. The nearest centers are listed below.
For a list of acceptable items, go to http://oclandfills.com/hazardous.
Hours of Operation:
Tuesday – Saturday
9:00 a.m. – 3:00 p.m.
(Closed major holidays and on rainy days)
6411 Oak Canyon
Irvine, CA 92618
San Juan Capistrano Collection Center
32250 La Pata Avenue
San Juan Capistrano, CA 92675
Waste Management of Orange County
16122 Construction Circle, East
Irvine, CA 92606
Useful Contacts
Waste Management of Orange County
Customer Service (949) 642-1191
City of Laguna Woods
24264 El Toro Road
Laguna Woods, CA 92637
(949) 639-0500
TTY (949) 639-0535
cityhall@cityoflagunawoods.org
County of Orange Household Hazardous Waste Collection Centers
O.C. Waste and Recycling
CalRecycle
Provides information regarding the State's recycling goals, programs, regulations and legislation.