Our mission is simple: Remove your waste, retain your trust.
Here's how we fulfill that mission every day.
Garbage will be collected weekly and must be placed at curbside by 6:00 am on the collection day.. Recycling will be collected every other week.
Collection Days:
Monday
88th Ave. (Cork Rd.) west to Kean Ave.
95th St. north to 83rd St.

Tuesday
85th Ave. east to Tri-State Tollway
99th St. north to 87th St.

Wednesday
85th Ave. west to 88th Ave. (Cork Rd.)
95th St. north to 87th St.
86th St. east to Tri-State Tollway
87th St. north to 83rd St.
Is it time to "flip your lid?"
Many of your neighbors are finding that their 65-gallon container with the GREEN lid is not large enough for the amount of recyclables being generated by their household and similarly, the 95-gallon container with the BLUE lid is too large for the amount of refuse being generated. If you find yourself in this same situation, please contact Waste Management, at 708-720-5100, to "flip your lids" so that the green lid is placed on the 95-gallon container and a blue lid is placed on the 65-gallon container.
Pick up will be weekly. Refuse must be placed in the container – with the BLUE or BLACK lid – at the curb every week. (NOTE: If you would prefer to use your 65-gallon container for refuse, call Waste Management to "flip your lids.")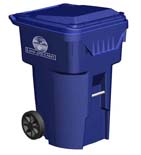 Bulky Item Pick-up
One bulk item will be allowed per week. Bulk items include:
Chairs
Couches
Mattresses
Furniture pieces
Refrigerators
Air conditioning units
Washing machines
Clothes dryers
Dishwashers
Water heaters
Carpeting
Stoves, ranges, ovens
Please note clarifications to above:
Refrigerator and air conditioning units must have Freon removed by a qualified service technician prior to pick up.
As a safety precaution, please remove the doors from refrigerators and freezers.
Carpet must be cut and rolled into 4-foot lengths. Each roll must not weigh more than 50 pounds. Rolled carpeting and padding must be secured with tape or string.
Residents may place up to four tires at curbside per collection day.
Bulk items and white goods (one per week) will be collected on the regularly scheduled collection day for a fee of $30.00 each. Residents should call in advance to schedule the pick-up.
White goods and automobile tires will be recycled by Waste Management.
Small home improvement project debris will be collected provided it is properly contained in a can and/or bundled and does not exceed 50 pounds in weight. Large amounts of homeowner-generated construction debris will require roll-off containers and/or dumpsters which are available through Waste Management at 708-720-5100 at an additional cost.
Residents should place as much garbage as possible in the blue container. If necessary, additional garbage may be bagged and placed beside it.
Non-Acceptable Items
Landscape waste mixed with garbage
Roofing materials
Large automotive parts
Sod, dirt, boulders and rocks
Fencing
Permanent swimming pools
Liquids
Autofluff
Medical wastes
Charcoal and hot ash
Materials from floods or fires or evictions.
Materials too large for the collection vehicle or for one person to lift.
Hazardous waste such as flammable liquids (gasoline, solvents, paints), RCRA hazardous wastes, radioactive wastes, automotive batteries, corrosive materials (acids/bases), PCB wastes, toxic materials, insecticides, oil, anti-freeze.
E-waste: televisions, computers, printers, fax machines
(Please call Illinois Environmental Protection Agency at 217-782-9285 for directions regarding disposal of these items.)