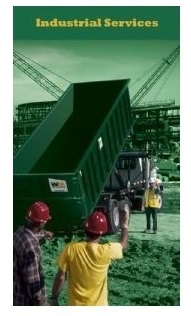 Waste Management has a large inventory of roll-off containers serviced by the largest fleet of roll-off trucks in your area. Our roll-off services are designed to assist you with your construction projects, your commercial business on a permanent or temporary basis or to simply clean out years of stored materials that are no longer wanted.
The basic requirement for this service is that large volumes of materials are going to be generated or the types of materials generated are of a large size.
Waste Management's roll-offs come in various container sizes to accommodate every project. Our standard roll-off containers have open tops with a gated end for easy access, and the most commonly used size holds 20 cubic yards of material.
For permanent applications with extremely large volumes of waste, roll-off containers can be utilized in cooperation with a compactor. Roll off containers attached to compactors can be used for solid waste collection and disposal or recycling collection and processing.
For more information about our Industrial Services please click here.