Local Involvement
Our commitment to community is evident by the number of events and programs we participate in each year. We support and sponsor many regional and local programs, including: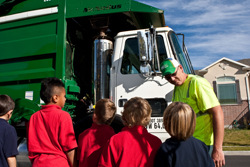 America's Freedom Fest
Bluffdale Town Days Rodeo
Brigham Young University Football
Chamber Memberships
Davis County Safe Kids
Days of '47
Lehi Library Gala
Orem City Summerfest
Provo City Public Works Day
REAL Salt Lake
Sandy Balloon Festival
Sandy City Jubilee and Amphitheater
Sandy Pride Day
South Ogden Days
Speaking of Women's Health Conference
Utah City Managers Association
Utah Jazz
Utah League of Cities and Towns
Weber County Golden Spike Arena
Various fundraising golf tournaments, dumpster donations for non-profit events, and city celebrations and events.
Nationwide Involvement
Please visit WM.com for more information on activities that help make communities safer, stronger, better and more fun!
Waste Watch Program - WM Drivers Help Protect Our Communities
WM employees live and work in the communities we serve. We want our communities to be safe and we are uniquely qualified to help achieve that. In a growing number of communities, Waste Management drivers are being trained to identify and report emergencies and suspicious activity along their collection routes. Because our drivers are working at times when neighborhood and business crimes often occur, they are in an ideal position to spot and report these situations. Click here for more information on our Waste Watch® program.
Keep America Beautiful
Keep America Beautiful (KAB) is the nation's leading nonprofit organization dedicated to community improvement through beautification efforts. For over 50 years, KAB has combined education with hands-on stewardship to prevent litter and reduce waste, making America's communities cleaner, greener, safer, and more livable.
KAB has launched an internet-based public awareness campaign featuring a new superhero – KAB Man! The campaign takes a humorously low-key approach to raising awareness of the organization, its focus and its initiatives. Go to www.kabman.org to view the three brief movies ("Webisodes") of KAB Man's exploits.