40-Yard Dumpsters
When you have a large renovation or cleanup project, you'll need a dumpster that can hold it all. As our largest available dumpster, the 40-yard dumpster is the right choice for you when you need to dispose of a large amount of debris.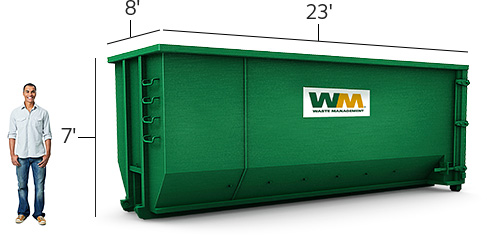 Dimensions:
23' long
8' wide
7' tall
40 cubic yards
Capacity
This dumpster can hold up to 12 pickup truck loads, with a 12,000-16,000 pound weight limit.
Key Features
Front-loading doors to conveniently walk in large or bulky items available on some dumpsters.
Is the 40-yard dumpster right for you?
Get rid of large amounts of debris quickly and efficiently with the 40-yard roll off dumpster. This size dumpster is perfect for a wide range of large projects, including:
Larger construction projects
Roofing projects
Large remodeling jobs
Or any projects encompassing more than 2,000 square feet
Caveats of the 40-yard dumpster are:
Cannot dispose of heavy items like asphalt or concrete as the 40-yard dumpster cannot handle the weight (our 20-yard dumpster is the right choice for you).
Cannot mix construction and household debris in the same 40-yard dumpster.
If you're taking on a smaller project — like a garage cleanout or a bathroom remodel — consider the 20-yard dumpster or the 30-yard dumpster to fit your needs. For small cleanup projects, the Bagster Bag is a great, convenient option.
Delivery Guidelines
Because of the size of our forty yard dumpster, make sure to follow these guidelines before the delivery of your dumpster rental:
We'll need about 50' of space in length to drop off your dumpster. Please make sure the desired area is free of debris and obstructions like vehicles.
We'll need about 24'' of vertical space to lift the dumpster off the truck and place it, so the area will need to be free of low-hanging wires or tree branches.
Safety is our top concern, so please let us know if there may be any complications regarding your delivery or drop off site as soon as possible.
Contact us at 800-796-9696 today to learn more and schedule your 40-yard dumpster delivery today.