RECYCLING
Recycling more is a worthy goal–for homeowners, businesses and communities. Today, we're North America's largest residential recycler, managing almost 14 million tons of material that is recycled or reused each year. It's a story we can all take pride in.
Single-Stream Recycling
We are committed to making recycling easier, more efficient and more productive.
Single-stream recycling, where all recyclables are mixed together in one collection
bin, is perhaps the best example of that philosophy in action. In addition to being easy
on consumers and businesses, this approach delivers added efficiency by reducing
vehicle miles for collection trucks and related tailpipe emissions.
In recent years, we have purchased more than a million tons of additional recycling
capacity, much of which is designed to expand our single-stream service area.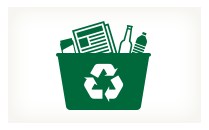 MATERIAL IN-FEED
Trucks are weighed and directed to the tip floor. Material is unloaded, inspected and stored, until it's ready to be fed to a conveyor.
PRE-SORT STATIONS
Sorters remove rejected items and film, which is vacuumed away. Bulky materials, inert materials and large pieces of plastic are also removed and in some cases sent for additional recycling.
CORRUGATED SCREENS
Material crosses a triple-deck Old Corrugated Cardboard (OCC) screen, which skims off the OCC from the rest of the material stream. The OCC floats over the screen, where it is inspected before being conveyed to storage bunkers.
PAPER MAGNET
Material left in the main flow is now mostly containers. These materials flow over a paper magnet, designed to extract paper from the stream. It uses powerful vacuum technology to hold two-dimensional paper flat to the conveyor, while round three-dimensional containers continue on the flow.
NEWSPAPER SCREENS
At this stage, the materials pass through a series of disc screens, which separate containers, cans and bottles from old newspapers and remove any remaining fiber material.
STEEL MAGNET
Next, a steel magnet removes and stores ferrous materials from the material stream.
GLASS SORTER
Whole glass bottles are broken and fed via conveyor belt to the glass crusher, which
crushes the glass and moves it to a
storage area.
OPTICAL SORTING
Bottles and cans that make it through the glass sorting area run through a series of optical scanners. These scanners separate out the last of the paper from the commingled stream, as well PET soda/water bottles, HDPE milk/detergent bottles, and aseptic milk/ juice cartons. Each are stored separately.
BAILING
Interior storage bunkers
accumulate large quantities
of each separated material
stream, which are subsequently
processed in ultra-high-efficiency
equipment for compaction
into "bales" for shipment to
end-use markets.
EDDY CURRENT
The remaining material is delivered
to an eddy current that automatically
separates aluminum by use of
a rare earth electro current, which
repels the aluminum over a baffle
where it drops to a chute and is
blown into a bunker for storage.

FINISHED PRODUCT
Forklifts move the bales to a finished
product storage area where they are
checked for quality.
SHIPPING
Bales are shipped to end users around the
world via truck, rail or ship, where they are
used as feedstock for new products.
---
Campaigns for Recycling
Perhaps the best way to improve recycling is to communicate how easy and effective it is to consumers. In addition to our ongoing Recyclebank partnership that provides valuable incentives to our residential customers to recycle, we've joined with Keep America Beautiful to help get the message out about recycling. The result is a multi-faceted advertising campaign designed to reinvigorate the recycling "brand", and generate awareness and understanding for recycling. We've also developed the Recycle Often. Recycle Right.SM campaign to provide consumers with the basic knowledge and tools for incorporating proper recycling into every aspect of their lives.
Ultimately, we want to alter the way Americans recycle by transforming it into a daily social norm. That's a big task. To get there, these campaigns feature an array of messaging and media channels to provide strong calls-to-action for everyone.
---