INFORMATION FOR RECYCLING HOLIDAY TREES IN EMERYVILLE
Waste Management and the City of Emeryville want you to enjoy your holiday season and are offering you a convenient and free way to recycle your holiday tree.
Trees will be collected curbside on regular collection days from Jan 1st, 2020 - Jan. 31, 2020. Since Jan. 1 is a collection holiday, your regular pickup day will be delayed one day that week only.
Place your tree at the curb next to your green waste, recycling and trash carts on your regular pick up day.
Trees taller than 6 feet must be cut into lengths of 6 feet or smaller.
Remove all tinsel, ornaments, nails, and tree stands. Artifical or flocked trees are not accepted.
After Jan. 31, trees will not be collected curbside without additional charge unless they are cut up and properly placed into your green waste cart.

FREE recycling tote bags and foodscraps pails available to all Emeryville residents.
RESIDENTS: Email mgreenhut@emeryville.org or call 510-596-3795 to request tote bags or a free countertop kitchen pail (while supplies last).
BUSINESS: The City of Emeryville offers FREE indoor recycling and compostables containers. Click here to request containers for your business.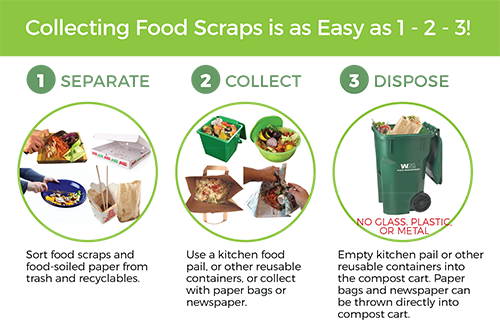 Do not use plastic bags of any kind, including compostable plastic bags.
Visit www.ReadySetRecycle.org for more information on food scrap recycling in Alameda County.
For information on disposing fats, oil, and grease and where to dispose large quantities of cooking oil (liquid oil/vegetable oil) please visit www.ebmud.com/fog



Recycle Where? is a collaboration amongst local governmental agencies including StopWaste.Org (Alameda County Waste Management Authority), San Francisco Department of the Environment, Contra Costa County, City of San Jose and City of Palo Alto.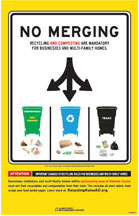 Alameda County's Mandatory Recycling Ordinance now requires all businesses and multi-family properties of five units or more, to have recycling and compostables collection service, and to sort materials properly. For more information go to http://www.recyclingrulesac.org to learn more.
Click image to download printable poster.
Waste Management of Alameda County, Inc. and the City of Emeryville are working together to increase recycling participation and reduce materials destined to the landfill.
By practicing the 4Rs – Reduce, Reuse, Recycle, and Rot - you can control the amount of waste generated or sent to landfill. Here are a few tips to help you reduce waste:

Reduce: Buy in bulk to avoid individual packages or products with excessive packaging. Whatever you don't recycle or reuse is trash. What is trash?

Reuse: Avoid the use of disposable or single-use utensils, napkins, paper towels, and other disposable products. Buy durable items that can be reused over and over again.

Recycle: Close the loop on recycling and buy products made with recycled materials. Items identified as containing "post-consumer" materials are made from things you tossed in your recycling cart or bin! What is recyclable?

Rot: Place your garden cuttings and food scraps in your green waste cart to be composted. What is compostable?
About Waste Management
Waste Management of Alameda County, Inc. (WMAC) is a community-based provider of waste, recycling and composting services. We are closing the loop on waste – turning food scraps and yard waste into compost, lumber debris into mulch and landfilled waste into bio-fuel. This clean-burning fuel helps to power our new collection vehicles in Emeryville. Working together, we can achieve the City of Emeryville's diversion goals and Climate Action Plan.