1-3 Units
Single Family Services Brochure
Questions about what goes where in your curbside bins?
Visit StopWaste's RE:Source guide for answers on what's accepted in Emeryville.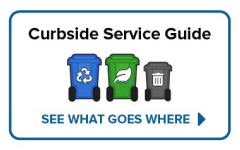 Cart Colors
GREEN
for compostables

GREY
for recyclables

MAROON
for trash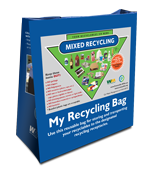 FREE recycling tote bags and foodscraps pails available to all Emeryville residents.
RESIDENTS: Email zerowaste@emeryville.org or call 510-596-3795 to request tote bags or a free countertop kitchen pail (while supplies last).

Holiday Service Schedule

Backyard Collection
Battery Recycling
Holiday Tree-Cycling
Household Hazardous Waste (HHW)
LampTracker Program
Low Income Assistance
Motor Oil & Filter Collection
Neighborhood & On-Call Bulky
Backyard Collection
Carts can be collected from backyards for an additional fee, or no fee for qualifying disabled individuals. Call (510) 613-8710 for details.
Battery Recycling - Free
Household batteries (AAA, AA, B, C, D & small button batteries), including rechargeable and cell phone batteries, can be recycled. Place batteries in a clear plastic bag, seal shut & tape to the top of the gray recyclables cart.
Holiday Tree Recycling Pickup - Free
Trees are picked up curbside during the first two weeks of January, on your regular pickup day. Only clean trees will be picked up: no "snow" flocking, stands or decorations. Trees must be cut to less than 5 feet tall.
Click here to download informational tree recycling flier.
Household Hazardous Waste (HHW)
HHW Drop-off Center is located at 2100 East 7th St., Oakland. The facility is open every Thursday, Friday and Saturday except for Thanksgiving, Christmas and New Year's week - 9am-1pm. Available to all Alameda County residents and no appointment is needed. For more information & schedule, call (800) 606-6606 or visit www.household-hazwaste.org.
Lamptracker Program - Free
Recycle compact fluorescent bulbs from the convenience of your home with the free mailback Lamptracker program provided by Waste Management and the City of Emeryville. Call (510) 613-8710 or e-mail csnorthbay@wm.com to request your free Mercury VaporLok container in a pre-paid mail back box.
Low Income Assistance
Single-Family Dwelling Customers that can demonstrate that they receive assistance under PG&E's California Alternative Rates for Energy Program (CARE) as it currently exists and is administered, shall receive a discount of twelve and one-half percent (12.5%) on their monthly Collection Service rate.
Motor Oil & Filter Collection - Free
Place filled motor oil recycling jug & filter bag curbside, next to the your garbage cart. Do not put kit in the cart. Call Waste Management at (510) 613-8710 to have a free used motor oil jug delivered to you. Put used filters in a customer-provided sealed plastic bag.

This program is for motor oil only; for cooking oil recycling, call the City of Emeryville at (510) 596-3728.
Neighborhood & On-Call Bulky Pickup - Free
Neighborhood pickups are scheduled for the month of April. Watch for future mailers with exact dates and information.
On-Call Bulky - you call, we'll haul. Call (510) 613-8710 to schedule an individual pickup once per year at your convenience. Watch for guidelines in the mail.