Waste Management of North County provides commercial and multi-family services using bins ranging in size from 3 cubic yards to 4 cubic yards (see sample sizes, below), which can be serviced up to six days per week. Commercial customers that generate low volumes of waste may also put out, a split bin or Waste Management provided 96 gallon carts. A split bin is a standard three cubic yard bin that is divided inside to allow for the separation of trash and recycling. This service is best suited for businesses who have limited space for trash and recycling bins. Locked bins are available; pull-out service can also be provided.
Commercial recycling services are also provided through the collection of bins, split bins or 96 gallon carts, for businesses that generate a low volume of recyclable materials. Commercial businesses should have at least an equal amount of trash and recycling services. Additional recycling carts and bins are available as needed. Most of the materials we use at home, work, and school are recyclable. Click here for a list of what can be recycled.
For pricing and ordering information, please contact customer service at (866) 967-3292. Customers may also reference this Simple Guide to understanding your invoice.
The City of Oceanside has a mandatory recycling ordinance that requires all designated recyclable material be separated from other trash. The disposal of designated recyclable materials mixed with other trash is prohibited. The State of California also adopted a State law which requires that commercial enterprises that generate four cubic yards or more of solid waste weekly be required to participate in recycling programs effective July 1, 2012. This provision also includes multi-family housing complexes of five units or more, regardless of the amount of solid waste generated each week. Click here to read more on California State Law AB341.
Let Waste Management help you Green the Office. Our recycling kit includes a step-by-step program outline, pdf signage you can turn into flyers, posters, magnets and stickers, and sustainability tips.
The City of Oceanside Solid Waste and Recycling staff can help you "green" your business by recommending ways to reduce waste, recycle, and purchase in a sustainable manner. To schedule an appointment to discuss ways to make your business eco-friendly, please email staff at oceansiderecycles@ci.oceanside.ca.us, or call 760-435-5021. City staff are also available to help your business get on the road to zero waste and comply with City and State mandated recycling laws. Click here for more information.
Get Ready for Mandatory Commerical Organics Recycling
About AB 1826
Assembly bill 1826 requires businesses that generate a specified amount of organic waste per week arrange for recycling services for that waste. The law uses a tiered implementation schedule, which phases in requirements on businesses over time based on the amount and type of organics or waste the business produces on a weekly basis.
Why Organics
Mandatory recycling of organic waste is the next step toward achieving California's recycling and greenhouse gas (GHG) emission goals. Organic waste such as green materials and food materials are recyclable through composting and mulching, and through anaerobic digestion, which can produce renewable energy and fuel. GHG emissions resulting from the decomposition of organic wastes in landfills have been identified as a significant source of emissions contributing to global climate change.
Food waste includes solid, semi solid, and liquid food, such as fruits, vegetables, cheese, meat, bones, poultry, seafood, rice, pasta and oils.
AB 1826 Compliance
Waste Managment is currently working with cities we serve on programs to support AB 1826. In 2016 businesses who fall within the requirements of AB 1826 will be notified about setting up an organics recycling program. Please refer back periodically to our website for the most current information regarding AB 1826 and when recycling programs become available in your city.
AB 1826 Implementation Timeline
April 1, 2016

Businesses generating 8 cubic-yards per week of food waste shall arrange for food waste recycling service
January 1, 2017

Businesses generating 4 cubic-yards per week of food waste shall arrange for food waste recycling service
January 1. 2019

Businesses generating 4 cubic-yards per week of solid waste shall arrange for food waste recycling service
*Does Your Business Qualify?
For a better understanding of the waste your business produces and if your business falls within the thresholds of the AB 1826 standards, please contact us at organicsnorthcounty@wm.com. Please allow up to 5 business days for a response.
Where to get more information
For more information on AB 1826, please visit the website for the California Department of Resources, Recycling, and Recovery (CalRecycle).

Sample Bin Sizes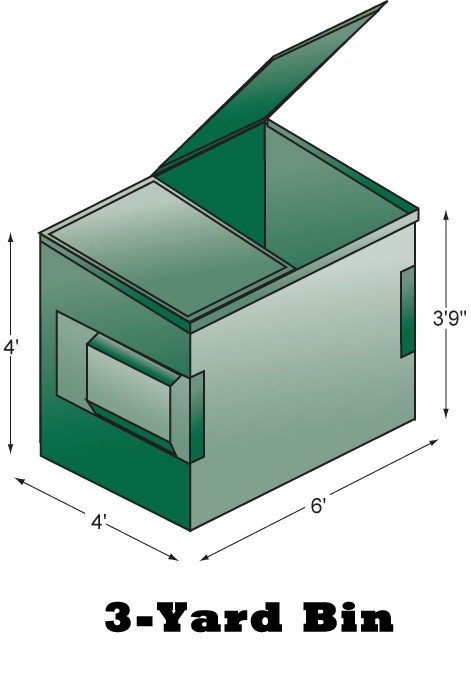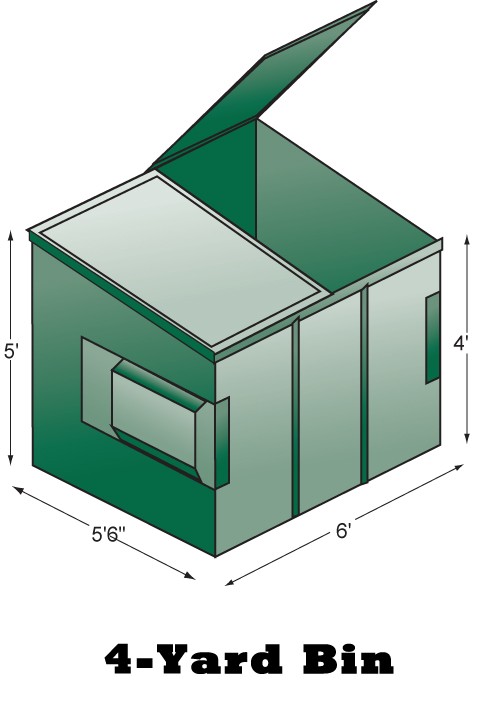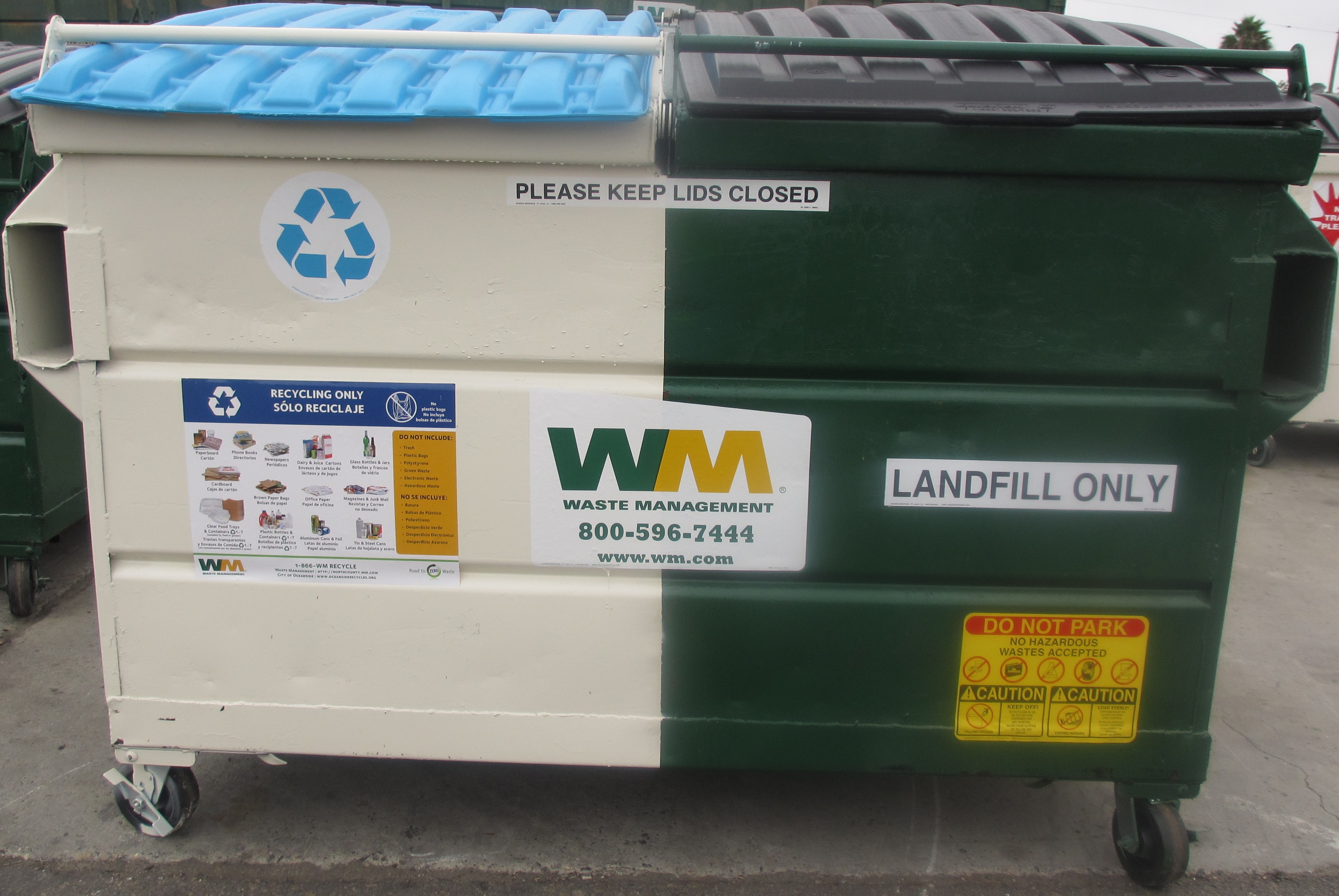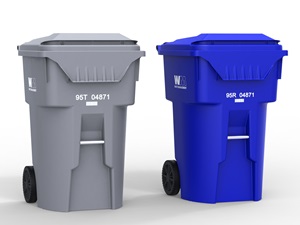 Dimensions
| | |
| --- | --- |
| 35 Gallon Cart | 39"H x 20"W x 23"D |
| 64 Gallon Cart | 41.6"H x 26.7"W x 28"D |
| 96 Gallon Roll Cart | 45.7"H x 28.5"W x 33.7"D |