City of Woodland Bulky Waste Drop Off Program
NEW! – Woodland Bulky Waste Drop Off Program
Woodland residents seeking to dispose of bulky items for free will now have the flexibility to drop-off items on any day the Yolo County Landfill is open in April. (**restrictions apply, please see details below)
Rather than limit drop offs to one day of the month, Waste Management and the City of Woodland agreed to expand the program to include flexible drop-off times and changed the drop off location to the Yolo County Landfill. The changes are being made to increase participation by making it more convenient for Woodland residents to unload of bulky waste materials.
Currently have backyard/sideyard service? Click here for information
New Bulky Waste Drop Off Instructions
When
April 1 to April 30 (Please note: Landfill is closed on April 21 for Easter)
Where
Yolo County Landfill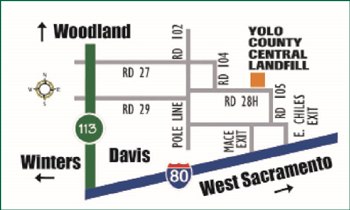 Who
All Woodland Residents. No Commercial Businesses.
How
A postcard voucher was mailed to all residents in March. Please bring that postcard voucher and proof of Woodland residency (id, utility bill) to the landfill in April for free drop off of bulky materials.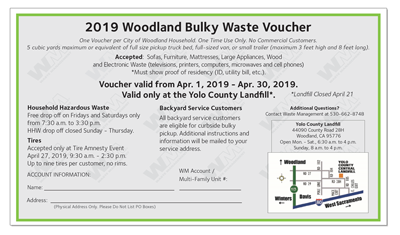 Accepted Items
Sofas, Furniture, Mattresses, Large Appliances, Wood and Electronic Waste (televisions, printers, computers cell phones).
How Much Can I Bring?
Residents can bring up to 5 cubic yards of accepted items. Five cubic yards is the equivalent of a full size pickup truck bed, a full size van, or a small trailer (maximum 3 feet high and 8 feet long).
Special Items
Tires
Tires will only be accepted free of charge on April 27 from 9:30 a.m. to 2:30 p.m. On this day, Woodland residents can bring up to 9 tires for free disposal. No rims.
Household Hazardous Waste (HHW)
Residents can dispose of HHW such as paints, pesticides, motor oil, household cleaners and poisons, at the Yolo County Landfill every Friday and Saturday from 7:30 a.m. to 3:30 p.m.
Backyard/Side Yard Service Subscribers
If you qualify for backyard/side yard service from Waste Management, you also qualify for our curbside bulky waste pickup program All customers who subscribe to backyard/ side yard service will receive a letter in the mail with detailed instructions on how to order curbside bulky pickup.
The letter will include a sticker (see below) that must be placed on an item where our driver can easily see it. Only one sticker is necessary for the entire pile.
Items accepted, and the amount of bulky waste is the same as above.