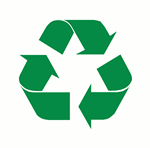 As a partner in the community, Waste Management GI Industries is committed to helping the communities we serve keep their environment clean through innovative recycling programs. Recycling is an easy way to protect our environment and ensure the well being of our community for generations to come. However, the success of recycling depends on the active participation of every member of the community. By participating, people will be reducing the amount of trash that is disposed in the landfill, encouraging the reuse of materials made from recycled products and continuing the recycling circle.

Become a Recycling Ambassador! Recycle Right by keeping these three things in mind:
Recycle all bottles, cans and paper.
Keep items clean and dry.
No plastic bags in the recycling.
Visit www.recycleoftenrecycleright.com to learn more.
Recyclable Items
We are pleased to report that the list of recyclable items continues to grow.
Recyclable Items

Aerosol cans (completely empty)
Aluminum cans
Beverage cans
Brochures
Cardboard cereal boxes (plastic lining OK)
Computer paper
Coupons
Egg cartons
Food cans
Glass bottles and jars
Glass cosmetic bottles
Glass (unbroken)
Junk mail
Laundry bottles (remove caps and lids)
Ledger paper
Magazines
Milk/juice cartons
Newspaper
Paper
Paper tubes
Phone books
Pizza boxes (clean)
Plastics #1 - #7
Tin cans
Tissue boxes
Used envelopes
Wrapping paper

Non-Recyclable Items

Animal waste
Animal waste bags
Carbon paper
Carpet
Cat litter
Ceramic pottery, mugs, dishes
Cigarette butts
Compact flourescent bulbs (CFL's)
Dishes
Disposable diapers
Dirt/cement/rock
Electronic waste (computers, monitors, cell phones)
Flooring
Food boxes (non-cardboard)
Food waste
Greenwaste
Household hazardous waste (oil, paint, batteries)
Mirrors
Napkins
Old clothes/shoes
Paper towels
Plastic Bags
Rags/sponges
Soiled paper plates
Solar panels
Polystyrene foam
Tires
Tissue
Toothpaste tubes
Waxed paper
Window glass
*Tips for Recycling Plastics
#1 PETE: Sport water, soft drink, mouthwash, ketchup, and salad dressing bottles; peanut butter containers; food trays.

#2 HDPE: Milk, juice, cosmetic, shampoo, dish and laundry containers, yogurt and margarine tubs.

#3 PVC: Pipes, clear food and non-food packaging, detergent, and cleanser bottles.

#4 LDPE: Squeezable bottles such as honey and mustard.

#5 PP: Straws, lids and empty medicine bottles.

#6 PS: Compact disk cases, clean plates, cutlery.

#7 Other Plastic: Three- and five-gallon reusable water bottles, syrup bottles.
Paint
Leftover paint can now be recycled at participating stores. Visit www.paintcare.org for more information.
Motor Oil
Pour used oil into a clean, leak-proof, plastic container with a lid; make sure lid is tight. (Use an empty milk or juice jug.) Please do not use containers larger than one gallon. Don't contaminate motor oil with other fluids. Never put motor oil in the garbage; never pour it on the ground or down storm drains.

For information on where to recycle used oil, please visit the following website: www.wasteless.org

Appliances
Waste Management/GI Industries offers curbside bulky item pick-up in several communities. Please call our customer service department at (805) 522-9400 or (800) 675-1171, to see if your city has a curbside bulky item pick-up. We also have several clean-up days throughout the year in various cities.

You can also visit the Ventura County Integrated Waste Management Division's website to find out which facilities accept appliances for recycling.