Waste Management of your area provides collection, recycling and disposal services to residential,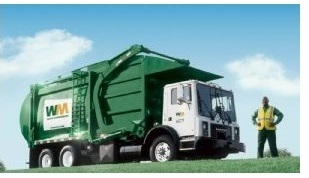 municipal, commercial and industrial customers throughout 61 counties in Minnesota, Northern Iowa, North and South Dakota. We live in and are active members of every community we serve.
Our commitment to the environment is evident in many programs that protect our natural resources and make a positive impact on our surroundings, including:
Sponsorship of Wildlife Forever, a national non-profit environmental education and conservation organization based in Minnesota.

Contribution of services and equipment for Earth Day activities and many other community clean-up events throughout the area, and

Initiation of the Youth Recycling Green Team program, a recycling education program that rewards youth groups for their efforts to increase public participation in recycling. So far, 25 Youth Recycling Green Teams have recycled over 500 tons of mixed paper/cardboard.
In addition to providing customers with the highest standards of service, we are committed to serving the community through the support and sponsorship of many local and regional programs, including Boys & Girls Clubs, Amyotrophic Lateral Sclerosis Foundation, Dakota Area Resources and Transportation for Seniors, Tickets for Kids and Rebuilding Together. As a supporter of Habitat for Humanity, we donate services and equipment to building projects throughout the area. We also established a unique program to support community improvement projects in Lake Mills, Iowa.
To date, projects funded include equipment for the fire and police departments, ambulance equipment, community beautification, development of a walking trail, school athletic equipment, playground equipment and city park improvements.
Waste Management of your area is dedicated not only to serving customers, but also to serving communities as a good corporate citizen and a responsible environmental steward.