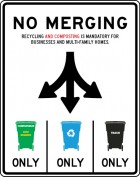 Mandatory recycling in the City of Albany has been in effect since July 1, 2012 for businesses and institutions with 4 or more cubic yards of garbage service as well as multi-family properties with 5 or more units. Phase 2 of the Mandatory Recycling Ordinance began July 1, 2014, which adds food scraps and compostable paper to the "Covered Materials" list. It also requires all businesses to participate (not just those with 4 or more cubic yards of weekly garbage service). Visit http://www.recyclingrulesac.org to learn more.
Waste Management of Alameda County, Inc. and the City of Albany are working together to increase recycling participation and reduce the amount of materials headed to the landfill. The City of Albany is aiming for zero waste, and currently has the highest waste diversion rate in the County, at 84%. Below are a few tips for reducing waste:
Observe Cart Rules. Check out our brochures (Residential | Commercial/Multi-family Dwelling) to find out what goes where.
Recycle Special Wastes Responsibly. Learn how to easily dispose of hard-to-recycle materials

here

.
Practice the 4Rs – Reduce, Reuse, Recycle, and Rot.


Reduce: Buy in bulk to avoid individual packages or products with excessive packaging.

Reuse: Avoid the use of disposable or single-use utensils, napkins, paper towels, and other disposable products. Buy durable items that can be reused over and over again.

Recycle: Make sure to place recyclable items such as plastic, glass, metal and paper in your gray recycle cart. Close the loop on recycling and buy products made with recycled materials. Items identified as containing "post-consumer" materials are made from things you tossed in your gray cart! What is recyclable?

Rot: Place your food scraps, food-soiled paper and yard waste in your green organics cart to be composted. Close the loop by using Waste Management WM EarthCare™ Compost in your garden. Compost is provided to Albany residents for free twice annually. What is compostable?
About Waste Management
Waste Management of Alameda County, Inc. (WMAC) is a community-based provider of waste, recycling and organics collection services. We are closing the loop on waste – turning food scraps and yard waste into compost, lumber debris into mulch and landfilled waste at the Altamont into bio-fuel. This clean-burning fuel helps to power our new collection vehicles in Albany. Working together, we can achieve the City of Albany's diversion goals and help reduce citywide greenhouse gas emissions.