McCourtney Road Transfer Station will be accepting treated wood waste starting on Wednesday March 24th.
Please read below requirements before bringing your treated wood load in:
The treated wood cannot be comingled with any other material including untreated wood
All those transporting treated wood must carry with them a shipping document (attached) and submit the same on arrival to Waste Management Staff.
Treated wood loads should also be labeled during transport.
Those without the shipping document will have to provide all the information upon arrival to WM staff. This information is required to be provided by Department of Toxic Substance Control (DTSC).
All transporters of treated wood must have applied for and received a variance from DTSC. WM will not reject customers who do not have a variance but WM is required to report this information to DTSC by law.
Residential customers with a load of 50 lbs. or less are exempt and will not require a variance
For more information visit https://dtsc.ca.gov/treated-wood-waste-variances/
Visiting McCourtney Road Transfer Station
Click here to download a BEFORE YOU ARRIVE contractor's checklist to help speed up your visit.
Store your vehicle weight
Open a credit account (see below)
Check the live gate camera (http://bit.ly/MRTSTRAFFIC)

or Save time and consider getting a roll-off container.
McCourtney Road Transfer Station Credit Accounts
Save time at McCourtney Road Transfer Station by applying for a credit account. You'll save time at the facility by eliminating transactions. It will also make it easier for you to keep track of your disposal costs by getting one monthly invoice instead of keeping track of receipts from your trips to McCourtney Road. Apply for a WM credit account is simple. Just fill out the two forms below and email them to our Industrial Services Representative Stephanie Bergreen: SBerggre@wm.com
Assisting Contractors with State Diversion Requirements
Developers and general contractors face ever-increasing construction environmental requirements. Waste Management, a leading recycler, is here to help you meet the 50 percent state diversion requirement. We provide a complement of services to simplify local and state compliance.
For hauling services and rates, please call us at: (530) 274-3090.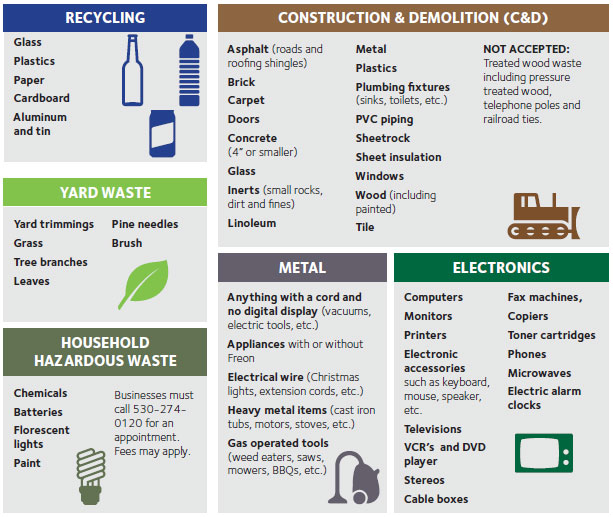 Click here to download an informational flyer.