NOTICE: Per State of California regulations, effective January 1, 2021 local Transfer Stations and Landfills can no longer accept Treated Wood Waste. Click here for more information: LANDFILLS | TRANSFER STATIONS
Visiting McCourtney Road Transfer Station
Click here to download a BEFORE YOU ARRIVE contractor's checklist to help speed up your visit.
Store your vehicle weight
Open a credit account (see below)
Check the live gate camera (http://bit.ly/MRTSTRAFFIC)

or Save time and consider getting a roll-off container.
McCourtney Road Transfer Station Credit Accounts
Save time at McCourtney Road Transfer Station by applying for a credit account. You'll save time at the facility by eliminating transactions. It will also make it easier for you to keep track of your disposal costs by getting one monthly invoice instead of keeping track of receipts from your trips to McCourtney Road. Apply for a WM credit account is simple. Just fill out the two forms below and email them to our Industrial Services Representative Stephanie Bergreen: SBerggre@wm.com
Assisting Contractors with State Diversion Requirements
Developers and general contractors face ever-increasing construction environmental requirements. Waste Management, a leading recycler, is here to help you meet the 50 percent state diversion requirement. We provide a complement of services to simplify local and state compliance.
For hauling services and rates, please call us at: (530) 274-3090.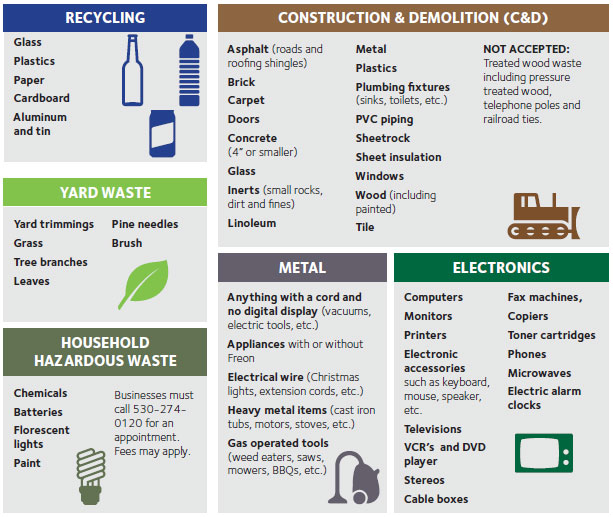 Click here to download an informational flyer.