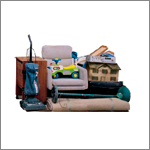 Residents are eligible for two (2) bulky waste collection appointments per year (July - June). Eligible items include furniture, mattresses/box springs, electronics, tires (limit 4), small and large appliances, rugs, etc. Limits apply. Call (866) 844-1508 for more information and to schedule an appointment.
Acceptable Bulky Items
Examples of bulky items includes Large Items; Large Green Waste; discarded furniture; carpets; mattresses; household appliances including refrigerators, ranges, washers, dryers, water heaters, and dishwashers and other similar items; large household goods including lawn and garden equipment (drained of fluids), bicycles and other similar large personal items.
Bulky items cannot exceed six feet in length, four feet in width or weigh more than 100 pounds.
Non-Acceptable Bulky Items
Household hazardous waste (such as paint, oil and batteries), construction and debris, spas, piano, camper shells, cast iron bathtubs or items requiring more than two persons to safely handle.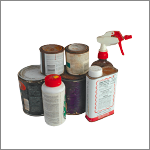 Household Hazardous Waste
Waste Management's "At Your Door Special Collection" provides appointment-based collection of household hazardous waste (HHW). HHW is any product labeled toxic, poisonous, corrosive, flammable, combustible or irritant. HHW items include paint, batteries, oil, and pesticides. Residents are eligible for two (2) appointments per year. Visit www.wmatyourdoor.com or call (800) 449-7587 to schedule an appointment. HHW is also accepted free of charge every Friday and Saturday at the Yolo County Central Landfill. Visit www.yolocounty.org or call (916) 617-4656 for more information.