Each household is provided with a 64-gallon green recycling cart for recyclable materials. There is no need to sort cans, bottles or paper; they all go in the same cart.
Please do not bag recyclables, keep loose. Please empty all containers prior to recycling.
Acceptable Materials for Recycling Cart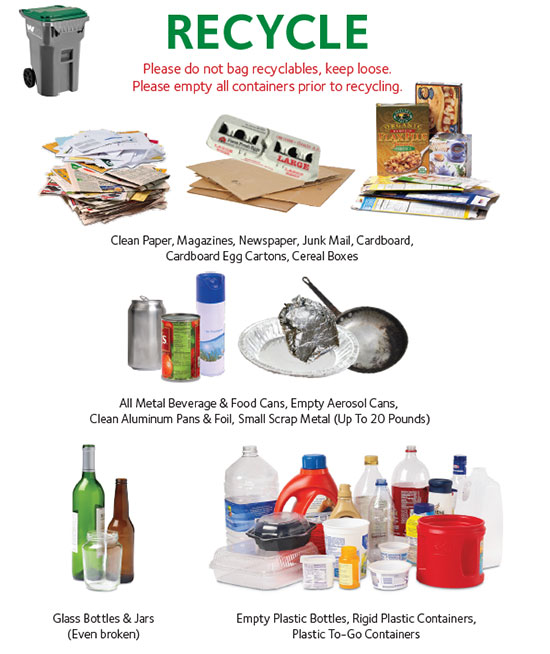 Non-Acceptable Materials for Recycling Cart
Hazardous waste
Yard waste
Animal waste
Window glass
Diapers
Mirrors
Ceramics
Clothing
Napkins

Carpet
Food waste
Pizza boxes
Tissue paper
Light bulbs
Wood
Liquids
Electronic Waste
Recycling Programs
HOUSEHOLD HAZARDOUS WASTE (HHW), AT YOUR DOOR -- NEW SERVICE! --
Waste Management's "At Your Door Special Collection" provides appointment-based collection of household hazardous waste (HHW). HHW is any product labeled toxic, poisonous, corrosive, flammable, combustible or irritant. HHW items include paint, batteries, oil, and pesticides. Residents are eligible for two (2) appointments per year. Visit www.wmatyourdoor.com or call (800) 449-7587 to schedule an appointment. HHW is also accepted free of charge every Friday and Saturday at the Yolo County Central Landfill. Visit www.yolocounty.org or call (916) 617-4656 for more information.
MEDICINE DISPOSAL --NEW SERVICE! --
Residents may dispose of non-controlled, over-the-counter and prescription medicine at drop-box locations throughout the City. Locations coming soon!
CURBSIDE USED OIL AND OIL FILTERS COLLECTION
Waste Management will provide used oil containers and filter bags. Residents may recycle up to two (2) gallons of used oil each month using this service. Used oil must be poured into provided used oil containers. Call (866) 844-1508 to request a container and filter bag.