How We Think Green.
From "Think Green" comes "Act Green". This is how we're turning waste into a resource and
putting sustainability at the core of our business.
RECYCLING
Recycling more is a worthy goal–for homeowners, businesses and communities. Today, we're North America's largest residential recycler, managing almost 14 million tons of material that is recycled or reused each year. It's a story we can all take pride in.
Single-Stream Recycling
We are committed to making recycling easier, more efficient and more productive.
Single-stream recycling, where all recyclables are mixed together in one collection
bin, is perhaps the best example of that philosophy in action. In addition to being easy
on consumers and businesses, this approach delivers added efficiency by reducing
vehicle miles for collection trucks and related tailpipe emissions.
In recent years, we have purchased more than a million tons of additional recycling
capacity, much of which is designed to expand our single-stream service area.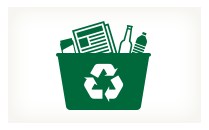 MATERIAL IN-FEED
Trucks are weighed and directed to the tip floor. Material is unloaded, inspected and stored, until it's ready to be fed to a conveyor.
PRE-SORT STATIONS
Sorters remove rejected items and film, which is vacuumed away. Bulky materials, inert materials and large pieces of plastic are also removed and in some cases sent for additional recycling.
CORRUGATED SCREENS
Material crosses a triple-deck Old Corrugated Cardboard (OCC) screen, which skims off the OCC from the rest of the material stream. The OCC floats over the screen, where it is inspected before being conveyed to storage bunkers.
PAPER MAGNET
Material left in the main flow is now mostly containers. These materials flow over a paper magnet, designed to extract paper from the stream. It uses powerful vacuum technology to hold two-dimensional paper flat to the conveyor, while round three-dimensional containers continue on the flow.
NEWSPAPER SCREENS
At this stage, the materials pass through a series of disc screens, which separate containers, cans and bottles from old newspapers and remove any remaining fiber material.
STEEL MAGNET
Next, a steel magnet removes and stores ferrous materials from the material stream.
GLASS SORTER
Whole glass bottles are broken and fed via conveyor belt to the glass crusher, which
crushes the glass and moves it to a
storage area.
OPTICAL SORTING
Bottles and cans that make it through the glass sorting area run through a series of optical scanners. These scanners separate out the last of the paper from the commingled stream, as well PET soda/water bottles, HDPE milk/detergent bottles, and aseptic milk/ juice cartons. Each are stored separately.
BAILING
Interior storage bunkers
accumulate large quantities
of each separated material
stream, which are subsequently
processed in ultra-high-efficiency
equipment for compaction
into "bales" for shipment to
end-use markets.
EDDY CURRENT
The remaining material is delivered
to an eddy current that automatically
separates aluminum by use of
a rare earth electro current, which
repels the aluminum over a baffle
where it drops to a chute and is
blown into a bunker for storage.

FINISHED PRODUCT
Forklifts move the bales to a finished
product storage area where they are
checked for quality.
SHIPPING
Bales are shipped to end users around the
world via truck, rail or ship, where they are
used as feedstock for new products.
Single-Stream At A Glance
Makes recycling easier and delivers on average at least 40% more recyclable materials collected

Employs advanced technologies - magnets, screens and optical scanners - to automate and maximize sorting of recyclables

Helps lower costs and emissions associated with collection

Now includes 50 single-stream facilities (more than 130 recycling facilities in all)
---
Campaigns for Recycling
Perhaps the best way to improve recycling is to communicate how easy and effective it is to consumers. In addition to our ongoing Recyclebank partnership that provides valuable incentives to our residential customers to recycle, we've joined with Keep America Beautiful to help get the message out about recycling. The result is a multi-faceted advertising campaign designed to reinvigorate the recycling "brand", and generate awareness and understanding for recycling. We've also developed the Recycle Often. Recycle Right.SM campaign to provide consumers with the basic knowledge and tools for incorporating proper recycling into every aspect of their lives.
Ultimately, we want to alter the way Americans recycle by transforming it into a daily social norm. That's a big task. To get there, these campaigns feature an array of messaging and media channels to provide strong calls-to-action for everyone.
Campaign At A Glance
GOAL: Motivate Americans to recycle

AUDIENCE: Residents with access to curbside recycling

MESSAGE: Recycling provides universal benefits - maximizes resources and improves quality of life
---
E-cycling
Sometimes the hardest challenges can lead to the biggest breakthroughs. Nowhere is that more evident than with our E-Cycling programs.
E-Cycling
Here, we're building our capacity to take on difficult-to-recycle materials such as electronics and partnering with our customers and outside experts to do it safely.
By 2012, our network included more than 200 collection depots in North America, gathering phones, batteries, laptops and other manufactured products. From there, eight Product Recovery Centers process what's been gathered - all have earned the Responsible Recycling (R2) and
E-Cycling Industry Operating Standard (RIOS) certification are eStewards and ISO 9001 certified.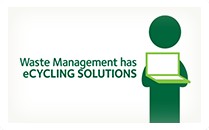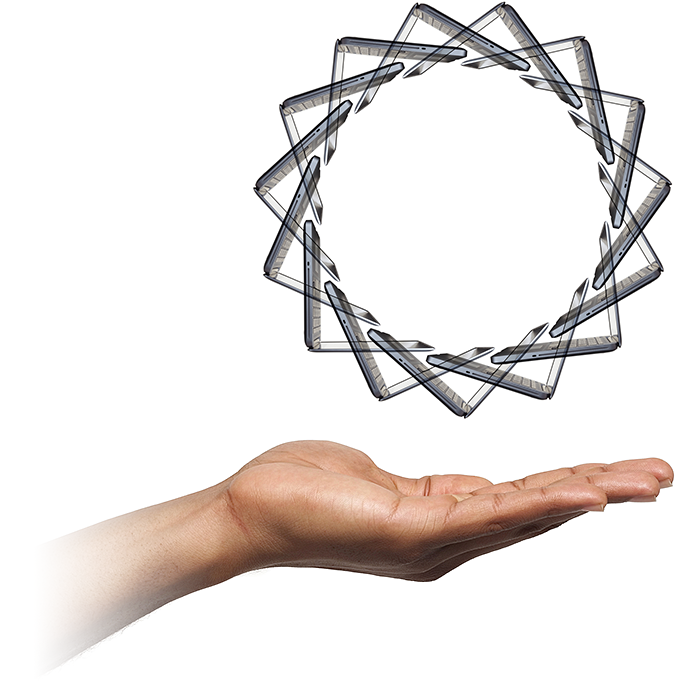 E-cycling At A Glance
The U.S. market for electronics recycling stands at about $5 billion a year

About 130,000 computers in the U.S. are thrown away each day - nearly 100% of their content is capable of being recycled

Our LampTracker service provides mail-in containers to safely transport and recycle fluorescent bulbs and tubes

Recycle by Mail is an added service for batteries, small electronics and computers
RENEWABLE ENERGY
Our commitment to renewable energy is taking form in a distinct way– our landfill-gas-to energy (LFGTE) facilities. These facilities produce enough energy each year to power close to 500,000 homes.
Landfill-Gas-to-Energy
It's a beautiful thing, actually, to turn waste into power. As waste decomposes in a landfill, a natural by-product is landfill gas. More than 20 years ago, we realized this gas could be captured and burned as fuel. We are now able to convert the gas into electricity or an alternative transportation fuel.
The benefits of landfill gas are both proven and compelling. This clean-burning energy-source is generated close to the end-user. Looking ahead, we're taking a leading role in developing Next Generation Landfill technology. The goal? Accelerate the decomposition of organic waste by increasing moisture content. This will help in creating more usable space AND more efficient landfill gas-to-energy utilization.
HOW LANDFILL-gas-TO-ENERGY WORKS
The cycle begins with the collection of residential and commercial waste. Recyclables are separated, and the remaining waste is then transported to Waste Management landfills for permanent disposal.
Much of this waste, including food, paper and cardboard, is organic in nature. Bacteria digest this organic waste and produce methane gas and carbon dioxide as natural by-products.
At the compression facility, the landfill gas is de-watered, filtered and pressurized.
The methane gas is recovered via a series of wells drilled into the landfill. These wells are connected by a common pipe system that collects the gas and transports it to a nearby compression facility.
The gas is piped to an electricity generating plant, onsite or offsite, where it is used as fuel to turn engines or turbines to generate electricity. Landfill gas may also be piped offsite to industrial customers for use as an alternative fuel source.
LANDFILL-GAS-TO-ENERGY At A Glance
An energy source that, when used, directly prevents atmospheric pollution

Landfill gas is currently being supplied to more than 135 projects, providing more than 615 megawatts of energy per year (enough to power 470,000 homes)

Energy supplied by landfill gas replaces over two and a half million tons of coal per year
---
LANDFILL HABITATS
Sustainability takes many forms at Waste Management. Perhaps the most visible symbols are our landfills themselves. In many different ways, in locations across the country, we're transforming the way a community and its residents view the presence of a landfill.
Habitat Conservation
Our long-term goal is to create 100 certified wildlife habitat sites and protect 25,000 acres by the year 2020. So how are we doing? We've actually already met that goal, a decade ahead of schedule. Rather than stop there, we'll continue to make habitat development a priority by shifting focus to smaller, more urban sites where wildlife preservation is a valuable community amenity.
The reasons for looking at landfills as a natural resource are many. Our customers, and the communities in which we operate, want more sustainable ways to deal with what they discard. Turning landfills into natural resources is a logical extension of that idea. Our employees view these efforts with a source of pride, as well.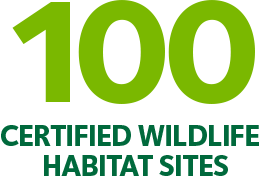 Waste management locations with WHC-certified programs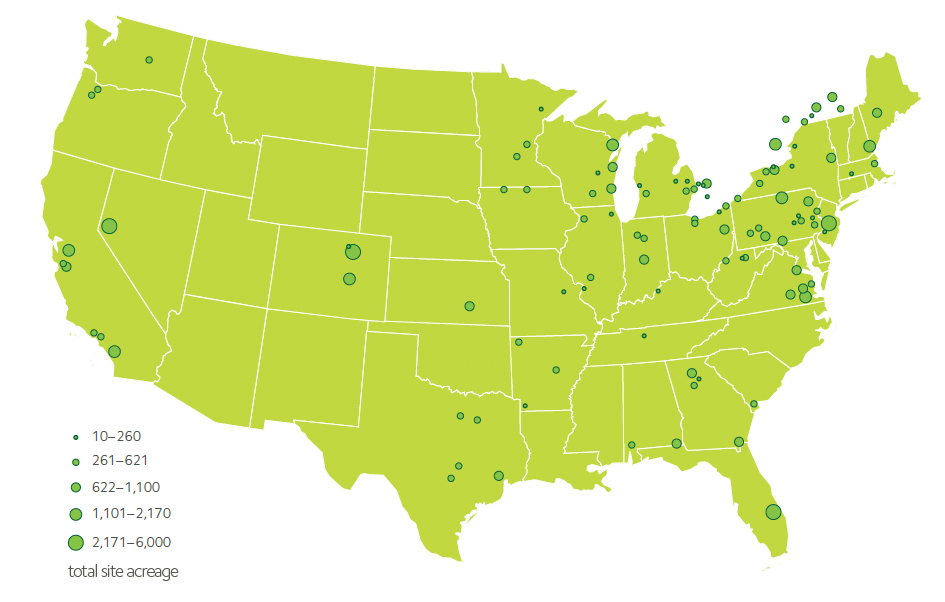 HABITAT CONSERVATION AT A GLANCE
American Landfill, Waynesburg, OH - 145 acres of preserved wetlands, enhanced by an annual tree-planting event involving nearby schools

GROWS/Tullytown Landfill, Bucks County, PA - 6,000 acres for wildlife through green space, lakes and various habitat enhancement projects

Kirby Canyon Landfill, Morgan Hills, CA - 255 acres devoted to a protected ecosystem supporting the Bay Checkerspot Butterfly, and the threatened Red-Legged Frog
---
Recreation Opportunities
Reimagining a landfill can take a wide variety of forms. Many Waste Management locations have broad buffer zones between the areas of active disposal and the boundaries of our property. These areas can become a recreational resource to benefit the community.
LANDFILL HABITATS At A Glance
Willow Hill G.C., Northbrook, IL - a nine-hole, Scottish links-style course built on a closed landfill with driving range, pitching and putting greens, and a full-service pro shop

County Line Landfill, Argos, IN - 85-acres recycled into athletic playfields, BMX bike track and 18-hole golf course

Closed Landfill, Denver, CO - turned into a 140-acre park with competitive BMX track and athletic fields featuring synthetic turf made of recycled rubber materials
FLEET
Most people have never seen a Waste Management landfill. Or a Waste Management recycling facility. But most everybody has seen a Waste Management truck. What they might not know is that our fleet of vehicles has become one of our most important–and impactful–environmental solutions.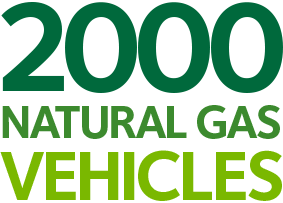 Converting to Natural Gas Vehicles
Committing to a more sustainable future starts with a good, hard look at our own operations. One of the first places we looked was at our fleet of collection vehicles. After several years of serious experimentation, we determined that converting our fleet to natural gas is the best option to improve efficiency and reduce greenhouse gas emissions.
So convert we have. Within a few years of that commitment, some 2,000 natural gas collection vehicles have been put into operation-making ours the largest heavy-duty natural gas fleet in the country. And we're just getting started.
NATURAL GAS FLEET At A Glance
Switching to a natural gas fleet reduces carbon dioxide (CO2) emissions and delivers improvement in per-mile emissions of nitrogen oxides (NOx) and particulate material

Our investment in natural gas vehicles also includes public fueling stations for our fleet and other local natural gas fleets
---
Altamont LNG Plant
The conversion to a natural gas fleet involves more than just our vehicles. It also involves how and where we get the natural gas to fill those vehicles. Our Altamont Landfill in California was one of the nation's first to install turbines to convert landfill gas to electricity. Today, Altamont produces up to 13,000 diesel gallon equivalents of clean-burning natural gas to power approximately 300 solid waste and recyclable material collection vehicles on a daily basis. Use of this near-zero carbon fuel eliminates nearly 30,000 tons of carbon dioxide emissions annually.
To bring it to our vehicles involves a state-of-the-art vacuum extraction system and a network of wells to capture the gas. The collected landfill gas is then refined into high quality renewable natural gas. The power to run the plant is also derived from landfill gas. Residue contaminants are removed and flared to minimize discharge to the atmosphere. Converting landfill gas to a green alternative to fossil fuel is the ultimate closed-loop approach to managing historic waste streams.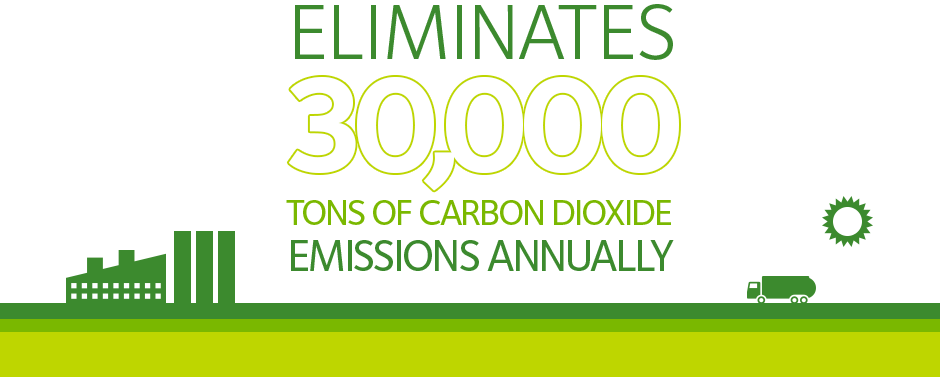 Altamont At A Glance
Collection vehicles fueled by Altamont RLNG (renewable liquified natural gas) produce 95% fewer carbon emissions than diesel-fueled trucks.

The Altamont landfill's gas-to-RLNG transportation fuel plant is the largest in the world.

Using LNG from the Altamont facility is estimated to save 2.5 million gallons of diesel fuel per year and reduce GHG emissions by 30,000 tons/year.
WASTE CONVERSION
President John F. Kennedy once challenged our nation to reach the moon by saying we should do so, not because it's easy, but because it's hard. That's how we feel about pursuing new technologies for reusing waste. And we're pursuing them with much the same skill and passion of a moon landing.
Plastics Recovery
Imagine driving a car powered by plastic bags, old computer cases or even broken plastic toys. That's the concept behind our investment in green technology designed to convert hard-to-recycle plastics into crude oil.
In simple terms, it turns a waste stream into a value stream. Best of all, it's more than an investment - it's a viable solution that's now coming to fruition at a first-of-its-kind facility near Portland, Ore.
WASTE CONVERSION At A Glance
Plastics traditionally considered as non-recyclable are now being converted into a high value, beneficial resource

The synthetic crude oil can be marketed for use at refineries, where it can be turned into ultra low-sulfur diesel, gasoline and even new plastics
---
SpecFUEL
Innovation can take many forms and can come from unexpected places. Waste Management's SpecFUEL is a perfect example. In a throw-away society, SpecFUEL makes use of materials that would typically be discarded.
SpecFUEL is a clean-burning alternative fuel intended to be combusted with or replace coal and petroleum coke used for heat in cement kilns and industrial boilers and by utilities. SpecFUEL is formulated using post-recycled paper and plastics that have been extracted from municipal solid waste (MSW). In the end, SpecFUEL complements our recycling programs and diverts even more materials from landfills. That's a good thing for all of us.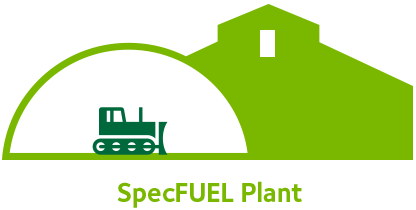 SPECFUEL At A Glance
The first WM SpecFUEL plant, located in San Antonio, Texas, became operational in 2012

A similar facility is now under construction in Philadelphia

SpecFUEL is ideal for industries using coal to produce energy or steam (chemical, pulp and paper, textiles, pharmaceutical and metal manufacturing)
ORGANICS
Many communities and businesses across the country are working to develop convenient and cost-effective systems to recycle organic materials. To increase food-waste recycling, we're working with customers in the food industry to develop innovative programs that are cost-effective and can make organics recycling easier and more efficient than ever.
Food, Yard Waste and Other Organics Recycling
We've developed a network of company-operated compost and organics processing facilities, partners' facilities and third-party operations to manage more than two million tons of organics, converting it to beneficial uses such as mulch, compost and even energy. Just as important are the organics processes and programs we put in place for our customers. We're helping them capture a growing source of organic materials - in ways that make it easy to increase diversion and enhance their sustainability.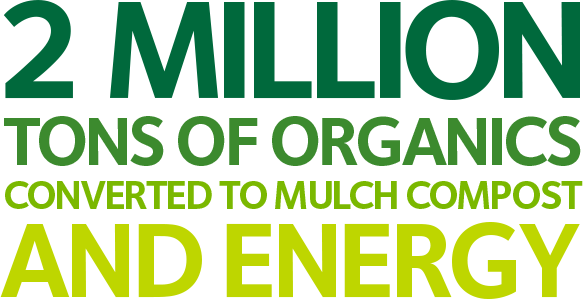 Organics At A Glance
Materials are source-separated on site

Training ensures success

Specially designed trucks haul materials

Facilities turn materials collected into valued, re-use products such as fertilizer and soil amendments
---
A Commitment to Organics
We see a big opportunity for resource recovery relating to organics. According to the EPA, food, yard waste (or green waste) and organic materials comprise the third-largest solid waste category. To turn that opportunity into equally compelling solutions, we're pursuing many different approaches and possibilities.
ORGANIC SOLUTIONS IN MANY FORMS
Our investment in Garick, LLC has resulted in an expansion of our offerings to customers of value-added products created from organics - compost and soils, mulch products, nursery/greenhouse growers' blends

We continue to develop composting and mulch operations to process organic materials, even working on proprietary processes to capture the energy value from the organic material.
---