Safe Sharps Disposal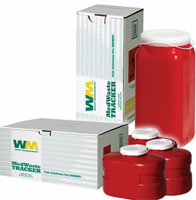 Up until now, there have been few safe disposal options for the 8 million Americans who self-inject a variety of prescription medications. Improperly discarded hypodermic needles, lancets and other "sharps" have the potential to cause serious injury to family members, and create health and safety hazards for the community. Used sharps must be handled with care. Waste Management offers a cost-effective solution that supplies you with a sharps container and a government-approved, postage pre-paid mail-back box to return the sharps to a proper disposal facility.

Waste Management offers a safe, confidential and cost-effective medical waste disposal to several of the communities we serve. The MedWaste Trackersm provides individuals, companies and institutions a way of disposing used hypodermic needles, lancets, test strips and other small quantity medical waste. Each system includes a specially designed sharps container and a postage-prepaid shipping container ensuring your medical waste will be delivered safely by the U.S. Postal Service to a certified medical waste resource recovery facility.

There are a variety of container sizes available for the home user and one for commercial customers. All are designed to meet all local, state and federal requirements. All provide a worry-free, responsible and safe needle disposal system. Order the one that best fits your personal volume of use.

Visit MedWaste Trackersm for more information or to order.

Disposal Guidelines

It is important that needles and other sharps are disposed of in a safe manner, in order to protect yourself and others who may come in contact with your waste cart, whether it is the trash hauler or sorters who work at Waste Management facilities. The United States Environmental Protection Agency offers guidelines on how to safely dispose of sharps and other medical wastes.