We're proud to service Nevada County, Nevada City, and Grass Valley

Click here to visit our Facebook page.
Create an online profile with WM.com! With a MyWM account you can:
Pay bills, enroll in autopay
Access your collection schedule
Set notification preferences
Log in or register at www.wm.com/mywm. Download the MyWM Mobile App for iOs or Android.
Download a recycling guide for Nevada County and the McCourtney Road Transfer Station
What's New at WM
Office is now open 8:30 a.m. - 4:30 p.m.
Coming soon, food waste collection!
FREE MATTRESS DROP OFF
All residents, regardless of if you are a WM customer, can now dispose of up to five mattresses and/or box springs combined for free at the McCourtney Road Transfer Station!
Just bring your mattresses and or box springs to the transfer station and make sure to tell the attendant you're dropping off only mattresses and/or box springs and you'll be directed to the free drop off area.
Please note, if you have other items to dispose or more than five mattresses and/or box springs combined, you will be charged standard disposal rates. Make sure to only bring your mattresses and/or box springs to take advantage of this free program.
Mattresses not covered by this program include severely damaged, wet, twisted, frozen or spoiled mattresses or box springs, any mattress or box spring infested with beg bugs, mattress pads or toppers, sleeping bags, pillows, car beds, crib mattresses, air mattresses, and sofa bed mattresses.
McCourtney Road Transfer Station
14741 Wolf Mountain Rd., Grass Valley
Open: Wednesday – Sunday; 8 a.m. to 3:30 p.m.
---

California State Law (AB1826) requires businesses that generate more than 4 cubic yards or more of solid waste and recycling to have organics recycling. Organics recycling includes the collection of food waste and food-soiled paper. Waste Management is working to provide an organics service for businesses in Nevada County, Grass Valley and Nevada City. Click here for more information.
---
Please Remember to Recycle Right

Click on image for larger view.
Recycling is at a crossroads in California and across the globe. A crackdown from China on what materials it will accept and how "clean" those materials must be, is causing a ripple effect throughout the industry that ends in how you sort materials in your kitchen. It is not only about the recyclability (ability to be recycled) of a specific material but also about its marketability (does it have any value).
What you think is recyclable might not be and how you handle the materials you recycle might need to change.
We want to help ensure you recycle right. We're rolling out new recycling rules and providing you information about what is recyclable and what is not. Please see below for more information so you can be sure to recycle right.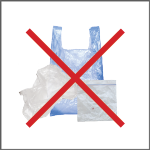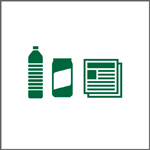 Why Clean the Stream?
If a load of recycling contains non-recyclables – even by just a fraction – that entire load risks not being recycled. That's according to new guidelines being enforced by China, a major importer of recyclable materials created in the U.S. Why does it matter? Quite simply, if you're not recycling right you could be preventing tons and tons of materials from ever seeing a second life. Learn more here.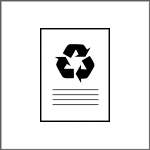 It's Easy to Recycle Right
Follow these simple guidelines to avoid contamination.