ATTN Chico Residents: WM recently sent many Chico customers the incorrect information about your services. If you received a 2022 Butte County Service Calendar, that was an error. All Chico customers will continue to receive weekly curbside recycling and green waste service. No changes have been made to your service levels, collection frequency or schedule.
STAY CLEAR OF CONTAMINATION
CHARGES EFFECTIVE JANUARY 1, 2023 AFTER TWO WARNINGS
Only place allowable materials in your recycling and yard waste containers. The contamination charge is $30.53, per incident per cart for residential customers and $61.06, per incident per container for commercial customers after two warnings. Customers with more than five instances of contamination may have recycling and/or yard waste cart removed for one year. There is a $41.01 fee to have your carts returned after the one year.
How to Avoid Contamination. Watch a video on recycling right.
Follow these simple guidelines to avoid contamination.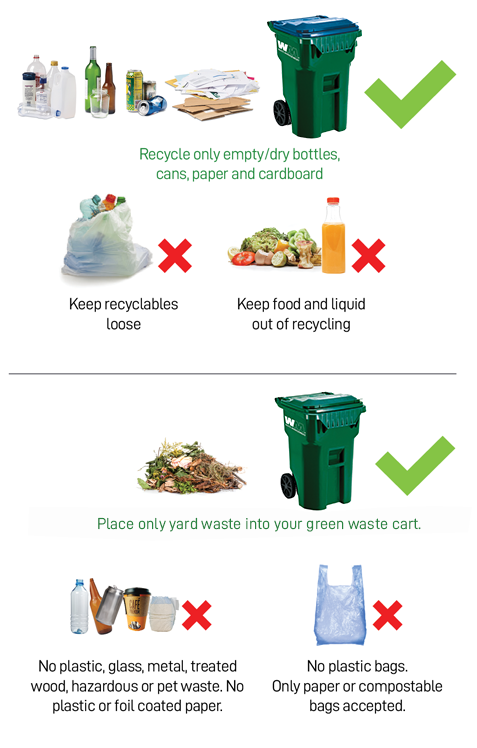 STAY CLEAR OF OF OVERFILLED CARTS AND SURCHARGES
CHARGES EFFECTIVE JANUARY 1, 2023 AFTER TWO WARNINGS
Always make sure your lid can close. Charges for overfilled carts are $7.89 per cart, per incident for residential customers, $62.09 (with prior arrangement) and $91.60 (with no prior arrangement) per container, per incident for commercial customers after two warnings. Customers with more than five overage incidents may be subscribed to the next highest trash service level with accompanying rates.
Follow these simple guidelines to avoid overages. Watch a video about overages.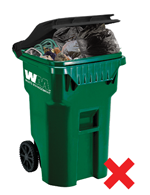 Breakdown cardboard boxes
Place recyclables loose in the cart - never bag
Keep appliances and HHW out
Increase cart size if recurring problem
If you regularly have excess materials, we're here to help you put a lid on overages. Call Customer Service at 866.825.7190 to help you right-size your service.
TIPS FOR PROPER CART PLACEMENT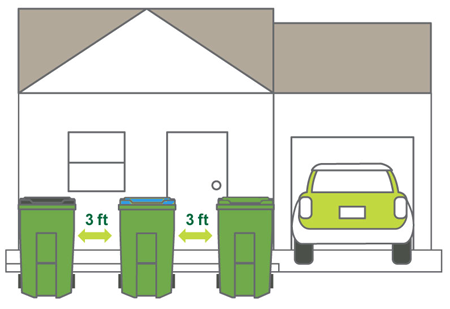 Place on the street in front of your house with wheels against the curb, away from any obstructions and neighbor's carts. Watch a video about proper cart placement.
TOOLS AND EDUCATION
CUSTOMER COMMUNICATION
Visit wm.com/mypreferences to update your contact information.
CUSTOMER EDUCATION
VIDEO RESOURCES
Recycle Right!
For recycling to work, we all have to do our part in keeping non-recyclables out of your recycling container.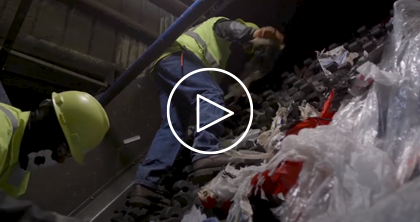 Avoid Overages!
Protect our community and environment, keep the lids closed.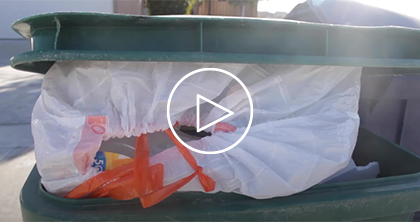 Properly setting our your carts makes a difference.
Learn why setting your carts our correctly matters: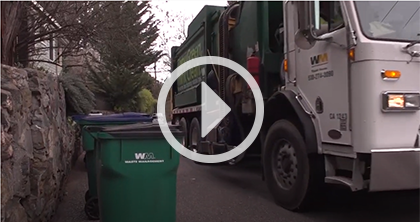 Check out more videos at https://www.wm.com/us/en/recycle-right/recycling-resources
FREQUENTLY ASKED QUESTIONS
IS THIS THE FIRST TIME CAMERAS HAVE BEEN USED ON A WM COLLECTION TRUCK?
No, Waste Management has used cameras on trucks for almost 10 years. We use mounted cameras to improve safety by assisting our drivers with rear and side-view perspectives, and documenting driving incidents.
HOW CAN YOU TELL IF A CART IS CONTAMINATED?
Mounted cameras record the containers serviced.
The picture (below) shows a sample image identifying the contents of a contaminated container that was just collected from a service address and placed in our truck.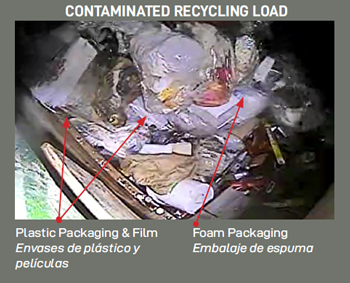 WHAT ABOUT PRIVACY?
WM will not share the images or customer information with third parties for marketing or data mining. The photographs or videos are used to educate and inform customers and the city to improve collection service, recycling and diverting materials away from the landfills.
WHAT QUALITY CONTROL IS IN PLACE TO ENSURE ACCURACY?
Our service consultants are trained to carefully identify service issues, such as overage, contamination and damaged carts. We have standard protocols for assessing every situation with built-in checks and balances to ensure accuracy.
WHAT HAPPENS WHEN A CUSTOMER DISPUTES A CHARGE?
By accessing additional images of the disputed service, our customer care staff will work to resolve any concerns, which can be viewed by both parties. If there is an error, we will correct it..
On August 15, 2017 Chico City Council approved franchise agreements with Waste Management and Recology standardizing waste collection rate and services.
Under the new plan residential trash, recycling and green waste collection provided by Waste Management are included in a single rate. Click here for more information about residential services.
The agreement also establishes commercial service zones, which designated service providers by geographic area. Click here to learn more about service options.
Alley Collection Notification
For some customers inside the City of Chico, alley collection of trash and recycling is available. For safety reasons, green waste collection will only occur curbside on the street.
Please note customers with alley collection may be serviced on a different day than their neighbors opting for street collection. The following maps indicate collection days for alley service within the highlighted area.
Click here to view maps