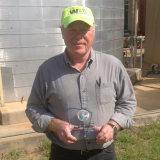 Palmetto Landfill wins operational compliance award

WELLFORD, S.C. The WM Palmetto Landfill wastewater treatment plant in Wellford, S.C., recently received an award for operational compliance for 2012 and 2013.

Palmetto Landfill operates its own pre-treatment plant and discharges to the Town of Lyman. The award was presented at the town's annual awards breakfast for industrial users. Accepting the award was David Salyer, shown here, WM treatment plant manager.

PHOTO: WM Treatment Plant Manager David Salyer accepted an award from the Town of Lyman, S.C., for the operational compliance of Palmetto Landfill's wastewater treatment for two consecutive years.