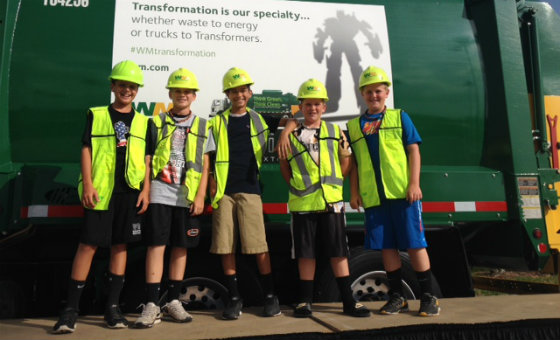 Touch-a-Truck Event held in Orlando in partnership with Paramount Studios and TRANSFORMERS™: AGE OF EXTINCTION

ORLANDO, Fla. Waste Management Florida invited residents to get up close with one of its collection trucks on June 25. The open invitation at Waterford Lakes Town Center in Orlando was in partnership with Paramount Studios to promote TRANSFORMERS: AGE OF EXTINCTION, which premiered in theaters on June 27.

In addition to being equipped with several technological features, the truck also has a limited-print decal on the side that illustrates a WM truck casting the shadow of its TRANSFORMERS character (to be unveiled later).

Orlando was selected to host a "truck tour" events, which encouraged TRANSFORMERS fans and the public to start seeing vehicles on the road a little differently in advance of the film's release on June 27. Several trucks throughout WM Areas in North America are sporting the decal and hosted similar events.

Children and families had their photo taken with the Waste Management truck and entered a raffle to win movie tickets, an official Transformers: Age of Extinction movie poster and a grand prize of a trip for two to Paramount Studios in California.

A second Touch a Truck event was held June 26 at The Loop in Kissimmee in front of Regal Cinemas.

PHOTO: Baseball teammates Nathan, Jack, Ethan, Reece and Eric attended the Waste Management Touch-a-Truck event in Orlando as part of WM's promotion of its role in the new TRANSFORMERS: AGE OF EXTINCTION movie.